Everything that you write on Fiverr must either build trust with buyers or improve sales. But your Fiverr profile description must target both.
Most buyers visit your profile through one of your gigs or buyer request responses. Visits indicate that they liked the gig and want to know more about you before placing an order. Essentially, your Fiverr gig title and gig description did their job well. Now, your profile page must build up on the buzz that your gig generated.
It should show what all you have to offer – other gigs, your experience, education, skills, certifications, and more. It must highlight how prolific you are with deliveries, what other buyers think about you, your communication frequency, and most importantly – if you are the right person for the job.
In this blog post, we will show you how to write the best profile description on Fiverr – one that convinces the buyers that you are a great fit. We will also cover the best practices to adopt while writing the Fiverr profile page.
How to write a Fiverr profile description?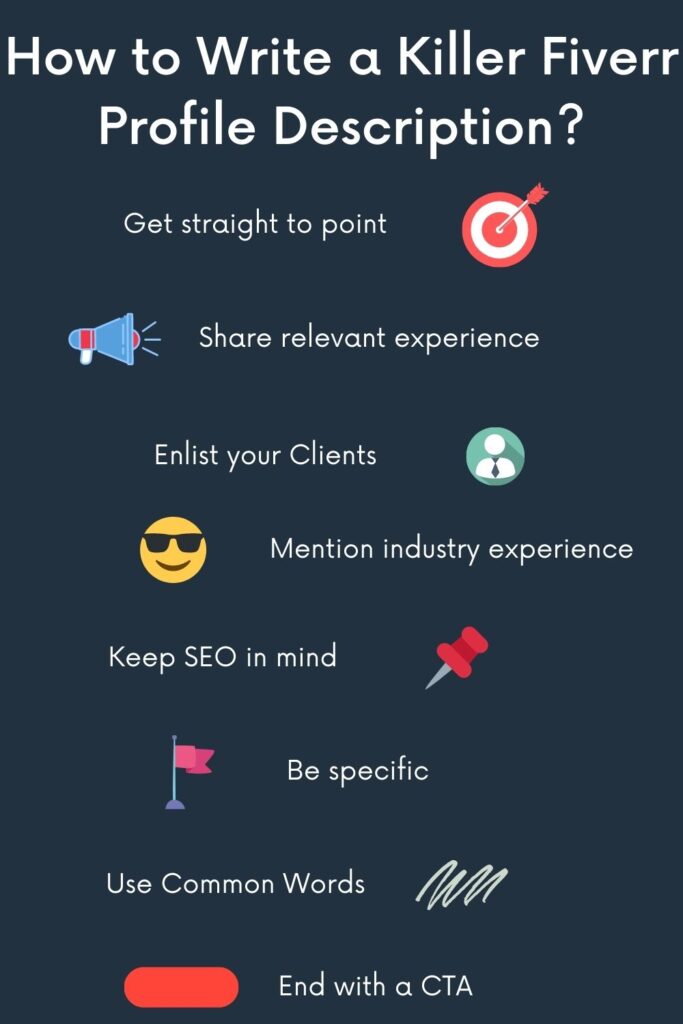 Adopt these best practices:
1. Get to the point right away
Buyers are spoilt for choice on the Fiverr marketplace. They have all the options and hold all the power as they bring money to the table. Also, there are many sellers in your gig category – the competition is fierce.
You must assume that your buyers have no time to read every word.
You can't afford to start with a friendly introduction the way you can with gig descriptions. The image example shows how to start the description effectively.

2. Speak about your experience specific to the gig category
Everything you do on Fiverr must align with one gig category. You can't sell T-shirt design gigs on a profile that focused on English lessons.
Technically, you can, but it won't work effectively because the Fiverr considers your profile while ranking your gigs too. Sticking to the above example, the algorithm will show on the first page, only those T-shirt design gigs that are supported by a T-shirt design profile.
Focusing on one gig will help you direct all forces in your power – gig titles, descriptions, images, profile content, etc. towards one common purpose. They all synergize to help you make more money on Fiverr.
Pack your description for Fiverr with information on your approach to your niche, what new you bring to the table, and what the buyer's experience will be like.
The below profile description example captures this idea perfectly. This seller articulates his success with the niche and how he can replicate it for buyers. He goes on to explain what the buyers clients would experience which makes this a good copy.

3. Enlist your clients
As a part of it's new feature, Fiverr has provided some top sellers with an option to add a new widget of their client base. The below image example shows one such brand.

However, most new and level sellers do not have this option. But that doesn't mean you can't add your clients. You can mention that in your profile description for Fiverr.
By doing that, you add more social proof, more credentials to your skills.
4. Mention the industries you worked for
When buyers visit your profile after they saw your gig, they want more assurance about your experience in the industry. The profile description example below shows how this seller has effectively used the space to expand on the industries she has covered.

5. Keep SEO in mind
Getting Fiverr SEO right is quintessential to rank on the first page of the Fiverr search results. It will help generate traffic to your gigs without having to pay from promotions. Additionally, the traffic that you get through your SEO efforts converts better.
Even though using keywords in the gig is important, it's crucial that you use them in your profile description too. This step will provide additional support to your SEO activities. SEO is the best way to promote your gigs.
6. Use common words
It's safe to assume that buyers aren't native English speakers. They are interpreting your text using Google Translate – using decorative words will only confuse them more. Even native speakers will be able to deduce your profile description better if you write it in an understandable manner.
Complicated words and sentences detract from the readability of the description. Every sentence should be concise and punchy. In spite of limited character count, choosing common words will aid in the delivery of your message – which is more crucial than the word count.
7. Be specific
Brevity is the soul of the wit and that is especially true when it comes to writing the best Fiverr profile description. It comes with a limit of 600 characters – you need to be highly selective with your word choice.
You need to cut down on fluff and stick to the point. The below image example shows the profile description for a logo designer on Fiverr.

It speaks about the seller's experience in detail while keeping the word count minimal.
8. End with a Call to Action
It's prudent to place a call to action (CTA) towards the end of the description. A CTA gently tells buyers what you want them to do. And it can give them the nudge they need to place an order with you.
The below image example for a data entry profile description highlights the CTA.

The CTA this seller used is – Let's get started. It's a decent CTA but it does not exactly tell buyers what they need to do. It's too vague. Instead, a CTA that reads – place an order now, or Send me an inbox is more direct.
What to write in a Profile Description for Fiverr?
Your profile description must include the details of your experience related to your services. It must also touch upon:
Your approach to delivering an order.
Value adds you provide.
List of clients your served.
What makes you different from other sellers.
A soft CTA.
Importance of a Fiverr Profile Description
A well crafted Fiverr description tells buyers that you are a trust-worthy seller who knows the craft well and can articulate effectively. It signifies the ability of the seller communicate clearly.
It also helps you sell your proposition better. Best profile descriptions build on the buzz created by your Fiverr gig. They provide the gentle nudge that sellers need to overcome their apprehension and buy from you.
They also offer additional SEO benefits. When the Fiverr algorithm registers that your gig aligns with your profile, you rank better.
Fiverr profile description samples
Beginners can take inspiration from these profile descriptions examples:
Sample 1. Fiverr profile description for data entry gigs
I've been working as a Data Entry Clerk and Admin Assistant in the not-for-profit sector for over 5 years. My specialties include scraping data from websites and processing it in a visually compelling way, utilizing Microsoft Office and Google Programs to organize data, working CRM's like Hubspot, converting files from jpgs and pdfs to editable files, and undertaking the legwork fulfilling repetitive tasks that take up the time of businesses.
Let's get started!
Sample 2. Fiverr profile description for logo design gigs
Hi, I'm a USA Based Experienced Seller helping small businesses with their design needs since 2011 on Fiverr! I am ready to create a high-quality and unique logo! I am also an expert in social media branding, packaging, illustration and website design. Please do not hesitate to contact me for any of your graphic design needs.
Sample 3. Profile description for Fiverr for content writing
I am here to write top-quality, SEO friendly articles and blog-posts on the topic of your choice. I spend a lot of time per blog: writing and rewriting sentences to make them more crisp, beautiful and comprehensible. I write on a variety of topics like: Real-Estate, Education, Food, Health and Nutrition, Search Engine Optimization, Digital Marketing, Social Media Marketing, & Self Development. I am open to opportunities to write on other topics as well. I am looking forward to connecting with you and writing content that you absolutely love.
Sample 4. Fiverr profile description for video editing
Hi! I am a professional video editor and content creator. My YouTube Channel has over 215,000 subscribers and more than 12 MILLION VIEWS! With the real YouTube experience and artistic ability to conceptualize and create catching visuals that bring your videos to life with fantastic video editing focused on watching experience and viewer retention to help you make videos people crave to watch!
Sample 5. Fiverr profile description for SEO content writing
I am an experienced writer with skills in SEO content, copywriting, sales, and marketing. I enjoy writing about tech, sports, business, finance, music, and everything else. Reach out to me and see how I can help you grow your business!
Conclusion
In this blog post, we covered 8 effective steps to write the best Fiverr description with examples. We explored steps you must take to improve upon the engagement that your gig created.
Make sure you support the profile description with other elements of your profile page such as education, social connections, etc.
Irrespective of your gig category, you must understand the buyer's approach to hiring on Fiverr. Learn more.