Your Fiverr gig description influences your buyers' decision to buy your services. It can be the differentiating factor between you getting orders and visitors leaving your gig page without interacting with you.
Potential buyers land on your page after they click on your gig listing. The fact that they are on your page means that they liked your gig title and want to know more about your offer.
Writing a killer gig description can help you convince buyers by explaining your services better. It tells them about your experience in the industry, projects you delivered, and who you are as a person. It also gives them an idea of your potential to address their common pain points.
Plus, the Fiverr description helps you optimize your gig for SEO which increases your gig impressions organically.
There is a lot to gain if you get your gig description right. In this blog post, I will show you how to do that. Let's dive in.
How to write a Fiverr Gig Description?
1. Align your Gig Description with the Title
Your visitors clicked on the gig title hoping to see more information around it. If you do not cover the topic in depth, your visitors will leave your gig page as it is not relevant to their needs.
If you, for example, create a gig title around blog writing for the lifestyle industry, do not talk about anything other than blogging or lifestyle. Also, do not go off on a tangent – stick to the subject.
Avoid talking about landing pages that you created for a plumbing client, it doesn't align with your buyers' needs.
Also, if you mentioned other points in the gig title like fast delivery or smooth communication, talk about that in the gig description too.
Look at your gig description as the extension for the title. Essentially, you expand through 1200 characters allowed for gig descriptions what you stated in the 60 characters of the gig title.
2. Research and Include Keywords
You want your gig to appear on the first page of Fiverr search results to get more orders on Fiverr. For that, you need to include relevant keywords throughout your gig. And since gig description offers you the highest word count, you can include diverse keywords there.
Keywords are the words that buyers type into the Fiverr search bar. You can find them through Fiverr search bar suggestions and competitor research. Identify at least 3 keywords. For example, if you are a website designer for real estate clients, research keywords around:
Web design
Real estate
Both of them combined
Do not overuse keywords in the gig description, sprinkle them throughout the text strategically. SEO is powerful but it's not the only way to promote your gigs.
3. Identify and Address Pain Points
Your buyers are looking for solutions on Fiverr. They are in constant search of sellers who provide top quality services without giving a reason to complain. It is essential to understand common buyer complaints and address them in your gig description.
To find the buyer's pain points you need to analyze your competition. Check what they complain about in the negative reviews. Some buyers might be unreasonable with their demands but you can eliminate those outliers by analyzing a sample for 30 gigs. It will uncover a common theme, a usual complaint that most buyers have but no seller addresses.
But if you become that seller, you are well on your way to make money on Fiverr.
4. Stick to the Narrative
The job of your Fiverr gig description is to keep the attention of visitors long enough to place an order or send a direct message. Content pieces can engage people only if they have a storyline – a narrative that ties it all together.
You need to write broad sub-topics that segue into each other. Record how you will begin and end the description and what all you plan to cover in between. That's how you list the outline.
Once you have it in place, do not stray too far from it. Make sure you stick to the flow and explain each subtopic in a concise yet comprehensive manner.
5. Add a Hint of your Personality
Even though Fiverr is a professional platform where business agreements are signed, it is still a place where people meet people. And people want to buy from people – not from organizations or agencies, and surely not from weird usernames with fake profile pictures.
That's why you must have a picture of yourself as your profile image. It allows people to see who they are dealing with, for perceptions about you and decide if they want to work with you or not.
And this extends to your gig description too. Add a bit of yourself to the gig description – mix your human side in. Do not hesitate to add a one-line joke but keep it relevant to the subject, and do not stretch it too far.
Even though this may sound like a waste of prime real estate, it's worth noting that people hire people only if they like them – skills come after that. When you put yourself out there as you are, you attract more buyers who like you for you and this forges better relationships which translate into repeat orders.
6. Use Simple Words
Many Fiverr buyers are not native English speakers. They are using Google translate to understand your text. And even those who are native will find it easy to understand your proposition if you write it in an easy to understand manner.
Complex words and sentences take away the comprehension from the gig description. You want to be concise and pack a punch in every sentence, which can be done by using precise words. But using common words will help you get your message out better and that's more important than the word count.
7. Talk About your Industry Experience
Buyers want to work with professionals. They want to be assured that the sellers they hire know what they are doing – no one wants to risk their money being spent on sellers who do not deliver quality products.
By talking about your experience in the industry and the gig category, you remove apprehension from the buyers mind. Knowing that you have many years of experience as, say, a social media manager in real estate, will give the confidence the buyers need to hire your services.
Mention this after the introduction to give a reason to visitors to read the rest of the description.
8. Highlight the Value Adds
Many Fiverr sellers offer the same services as you. What additional benefits might a buyer get by hiring you over others? Early delivery? Smooth communication? Or maybe something specific to the industry. Mention them in the Fiverr description.
Essentially, the goal is to keep readers engaged while learning more about your services, and giving them more reasons to hire you.
9. Use Bold Text and Highlight Features
Buyers often do not read every word of the gig description. They take a cursory glance before they develop an opinion about you and make the decision to buy from you or not.
Your content must be designed to save the buyer's time and to do that, Fiverr provides the bolg and highlight text features. In the below example, the seller has done a great job of using these features.

The human eye has the natural tendency to jump to part of text that stands out. This seller has done a brilliant job at outlining text that the buyer should read – some text offers information while another piece towards the end highlights the call to action.
10. Enlist Services that you do not Provide
Every Fiverr seller sees a phase where they do not get orders for a prolonged time period. To set the ball rolling, they pick up any order that comes their way, even if they are not an expert at that.
I almost did that once. I got a query to write on Buddhist deities for my content writing gig that I almost accepted before better sense prevailed. Had I accepted that I would have to spend a lot of time researching a topic that I do not know anything about.
To avoid such situations, you must specify what you won't work on along with what you will. This one step will help you set clear expectations, avoid bad buyers and poor reviews.
11. End with a Call to Action
Call to Action, CTA, is a short phrase that tells buyers what you want them to do next. You can either ask them to place an order or to reach out to you via inbox towards the end of the description.
This gives buyers the slight nudge they need to overcome natural human apprehension and get in touch with you.
12. Keep it Original
There are not clear guidelines on copying competitor's gig description word-to-word. With a lot of sellers selling the same services, many descriptions will have a high degree of commonality. Yet, it's disgraceful if you copy content from someone.
You may still keep getting orders unless someone finds out what you did and reports to Fiverr. Also, you miss the opportunity of adding your personality to the text and your buyers will figure that out while chatting with you. They won't say it out loud, but they will find something amiss and call off the deal.
FAQs
What is Fiverr gig description?
Gig description on Fiverr is the section of text that gives key details of your services to potential buyer. It progresses narrative started by your gig title and elaborates on what you exactly offer. It appears after someone clicks on your gig listing – right under the gig media section.
How many words is a Fiverr Gig description?
Fiverr gig description is approximately 240 words with a hard limit of 1200 characters. It's fairly easy to incorporate tall the best practices of writing a gig description within this limit. You can extend the limit by adding more content in other areas of the gig like FAQs. While writing your gig description, Fiverr shows the current character count and also truncates your text if you exceed it.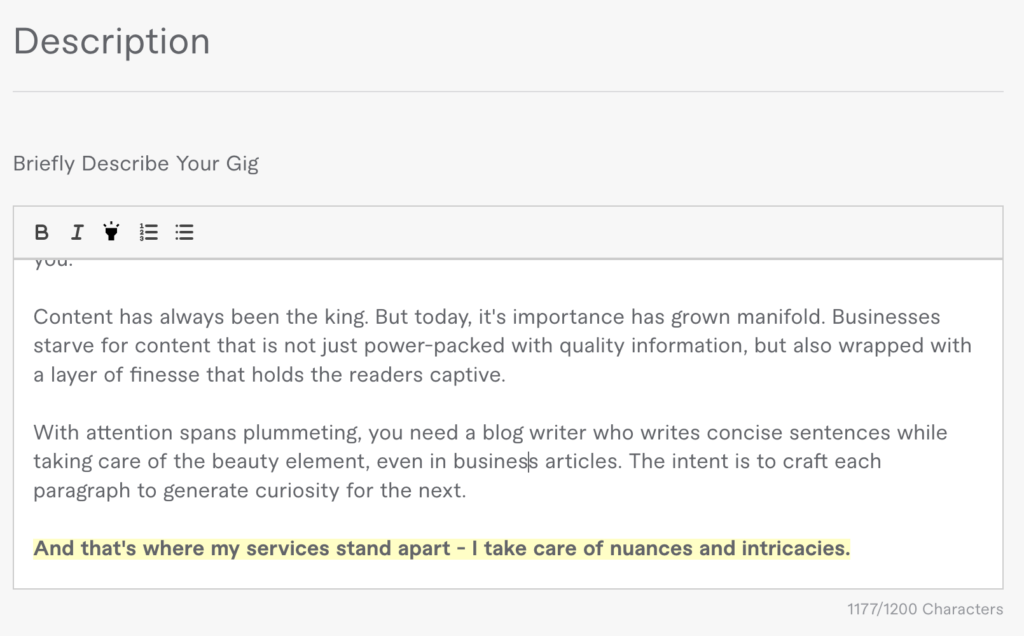 What to write in the Fiverr gig description?
Pack your gig descriptions with the below details:
Your experience with the gig
Your experience working with other buyers from the same country and industry
Your education relevant to the services
Mention your average review rating (if it's good)
Highlight the process
Establish how you differ from other sellers
Highlight what extra do buyers get through your gig
Include a proper conclusion with a relevant CTA
How to bold text in Fiverr gig description?
Bold text stands out from the rest of content and can inspire action from the buyers. It's highly recommended that you set very selective text to bold, not all or most of it. The process is very simple. You just have to select the text that you want to make bold and click on the 'B' icon.
See the image below for better reference.

How to highlight text in Fiverr?
Highlighted text elevates from the rest of the content in your Fiverr gig description. You can highlight content in yellow by selecting the content and clicking on the highlight icon.
You can find the icon third from the left in the above image.
Conclusion
Your gig description plays an important role in converting visitors to your gig landing page. It convinces buyers to avail your services by answering questions and removing doubts before they arise.
A carefully crafted description will also help you rank better on the marketplace, and thus get more orders.
Finally, abide by Fiverr's gig policy while writing descriptions to keep your profile from being banned.