Ranking your Fiverr gig on the first page of search results will help it get more impressions. Based on your gig gallery and title, you may get a lot of clicks from highly relevant buyers. All the traffic you generate is organic and high-quality, which converts better than paid traffic.
But getting your gig on the first page requires strategic planning that begins even before you create your gig. The strategy we share will be effective even after you deliver many orders.
In this blog post, we will cover all the steps you need to take to get your gig on the front page of Fiverr. Let's get started.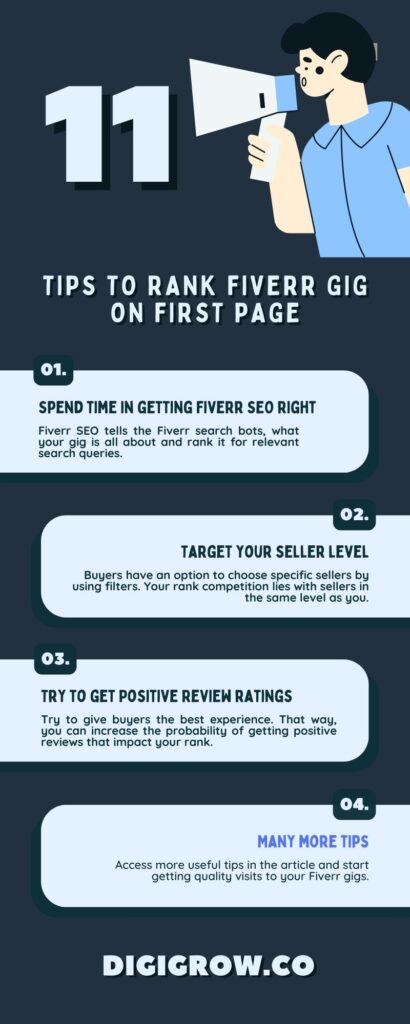 1. Spend time in getting Fiverr SEO right
Fiverr SEO revolves around finding relevant keywords for your Fiverr gig and using them in your gig title and meta data. These keywords tell the Fiverr search bots, what your gig is all about.
Analyzing keywords is how Fiverr tells a content writing gig apart from a design focussed gig.
We have a complete guide to Fiverr gig SEO that will walk you through the complete process.
But, is gig SEO the only aspect of getting your gig on the first page of Fiverr search? No, there are many more.
2. Be more available online
Ranking your gig on the first page of Fiverr depends on a lot of filters, it's not just about your gig. You need to optimize your approach based on the filters too. One of those filters is the availability of sellers.
As shown in the image below, sellers have an option to switch a button and see the listings of only those sellers who are online.

This means, no matter how well optimized your gig is for Fiverr SEO, it won't rank if you are not online. Yet, if your gig is not that well optimized, you will rank over better optimized gigs if you are online.
Now, it's impossible and ill advised to be online 24 x 7, try to be online as often as you can. You can do so by using the Fiverr App and keeping your screen lock time over 1 hour. That way you will show online even if you are not in front of the screen.
3. Target your seller level
Once the buyers type in their search query, they have an option to choose specific sellers by using filters. Some buyers might want to choose top rated or level sellers, in which case, a new seller won't stand a chance to rank.

But if you are a new seller, with the right Fiverr SEO steps, you will rank at the first page above all other new sellers.
4. List all languages you speak
The above image shows that buyers can filter out sellers based on the languages they speak. Even though English is the primary language with the highest number of sellers, languages like Spanish and French can give you a niche audience base. List those if you know the language.
5. Optimize your gig for a more niche audience base
Fiverr throws many filters for buyers. It helps them get very specific which means the more focussed your gig is, the better the chances of it showing up on the first page of Fiverr.

The above image shows the options available for the logo design gig category. Similarly, you can find other options for other categories. You need to check these before you create your gig and try to target a very niche audience base.
6. Target the right budget range
Buyers can also filter out sellers based on their budget. Even though gig categories usually have a budget range, it is ideal if you have a low budget option too, especially if you are a new seller.
You need not offer too many services for $5, but do keep one out of the three available options set at that amount. This way, you stand a chance of ranking your gig on the first page of Fiverr for the budget specific filters.

7. Set an Express 24-hour Delivery time
Most buyers on Fiverr are looking for sellers who can deliver fast and cheap. By offering a 24 hour delivery, you can bag those buyers by rank Fiverr gig on the first page of the search results – relevant to that filter.

8. Opt for the Right Service Inclusions
Any gig category you choose has a set of service options that give buyers more information for making a decision.
The gig category for data entry, in the image example below, has two service options. Similarly, your gig category will have some too.

Make sure you enter all service options that you can. This way, your gig will be listed on the first page of Fiverr search results when buyers check any of the relevant options.
Remember, your goal is not to attract any buyer, you want to attract relevant ones alone. The more specific your targeting is, the more orders you get. And that applies to getting your first order on Fiverr and the next ones.
9. Try to get Positive Review ratings
As you grow on Fiverr, you will start accumulating reviews from buyers. Some buyers are generous and appreciate your work with 5-star reviews, but a few of them might give you a low rating for no reason.
As per Fiverr's Terms of Service, you should not ask buyers for rating your work or changing their review, so essentially you have no direct control over that.
But review comments do impact how you rank. Fiverr takes the ratings score seriously and usually serves 4-star rated gigs on the first page and above, for any search query.
You must try, especially as a new Fiverr seller, to give buyers the best experience you can. That way, you can increase the probability of getting a positive review.
10. Increase the number of orders delivered
The number of orders you deliver and completion percentage are important metrics for Fiverr ranking. Once you get frequent with selling on Fiverr, you will start ranking for different filters than what you did as a beginner.
For example, you may bump up your prices, change your services, etc. which will rank you for a more niche audience base.
11. Maintain a low average response time
Average response time is the measure of how fast you respond to buyers when they reach out to you through the order page or inbox. Ideally, you want to answer within an hour.
A more responsive seller would give better service to buyers, as per Fiverr's algorithm, so that metric plays a role in ranking your gig on the first page.
Conclusion
Ranking your gig on the first page of Fiverr can drive tons of highly relevant buyers to your gig page by increasing your impressions count. But beyond that, you need to create a stellar Fiverr gig that has an attractive gig gallery that increases the click through rate and all the information that a buyer might need to place an order.
Irrespective of your gig category, you must understand the buyer's approach to hiring on Fiverr. Learn more.