If your goal is to make money online, you must have heard about affiliate marketing. You might probably have an idea about it already, but with so much information floating around the topic, it's but natural for beginners to feel lost.
To help you find your way, we have included in this blog post, all the information you need to become an affiliate marketer. We will cover in detail:
What is Affiliate Marketing?
In simple words, the complete process that an affiliate marketer undertakes to promote a product of an external company, in return for a commission, is known as affiliate marketing.
Essentially, the marketer generates interest for the company's product among their followers/subscribers which leads to visits to the product page. The visitors may then engage with the page, purchase something, or bounce off – in any case, the marketer makes some money, subject to the agreement with the company.
For example, if DigiGrow owns an info-product and wants to drive affiliate sales, we would advertise on an Affiliate Network. Affiliate marketers, like you, who are active on that network will go through our offering and if they find it worth their time, they will create content or pay for Ads to promote our product, in return for a commission.
If the product costs $100 and DigiGrow promises 20% commission, we give you $20 for every sale, and 2 cents per visit.
How does Affiliate Marketing Work?
There are three parties involved in an affiliate sale.
A company that owns the product.
Affiliate Marketer who sells the product.
An Affiliate Network that connects companies and affiliates.
And here's a sequential account of affiliate marketing works.
A company decides to drive more sales through affiliates.
Organizations leverage multiple channels to maximize sales – Paid Ads, SEO, Social Media Marketing, etc. Affiliate marketing is another channel that they can use to sell more.
Affiliates bring traffic to product pages that the company would otherwise miss out on. The audience is relevant and highly motivated as they come from the recommendation of someone they trust. This promotes a high conversion rate.
In return for a fixed or a time-bound recurring commission, the company gets the long-term business.
The company looks for affiliate networks and set-up an affiliate program.
The affiliate programs are hosted on affiliate networks. These programs cover commission structure for the perusal of affiliate marketers.
The structure lays down how much an affiliate marketer -like you – can make by selling the product, bringing a lead to the product page, and the number of times people click on the page link.
Further, they specify if the affiliates get a one-time or a recurring payment.
The aim is to give a complete picture to affiliates while attracting them to sign-up for their program and create content promoting it.
Affiliate marketers sign up for the company's affiliate program.
Affiliate marketers are on the lookout for companies with maximum commission per sale. If a company offers a 50% commission for a $20 product, it will get less traction than a company that offers a 10% commission for a $1000 product.
If the product is relevant to their audience, affiliates sign-up for the program and waits for the company's approval.
The company takes a look at the affiliate's following/ subscribership. For example, if an affiliate declares that they will promote the product on their blog, the company will check blog traffic and engagement rates. If it fits the bill, they approve the affiliate, and both parties get into an agreement.
Affiliate networks provide unique links.
Every approved affiliate marketer gets a unique link to the product page. This link attributes the sales to them. It also helps the affiliate network gather performance metrics for individual marketers and populate them on the dashboard.
Affiliate marketers insert this link in their content and drive tons of traffic to it with the hope that a huge percentage of visitors will click on their affiliate links.
The marketers sell the company's product and earn a commission.
The more people click on the affiliate link, the more sales for the affiliate.
It's a win-win situation for all the parties involved in every affiliate transaction.

How to get started with Affiliate Marketing?
Follow these 10 steps to start a successful affiliate marketing business:
1. Pick the Right Niche.
Blogging/vlogging is a saturated market – Pick any niche and you will have tons of blogs and YouTube videos covering it. For some niches, the competition is so high that it will take you ages before you generate enough traffic that generates affiliate income.
So, how to pick the right niche?
Pick a niche that you have experience with, are passionate about, or have a basic understanding of. You will be creating a lot of content around the niche. If you don't resonate with it, your interest will fizzle out and you will hate what you do within a few months.
The first niche you pick may not be the best one – it may be too competitive. For example, if you like running, you might wonder how to start a blog to sell running gear. But doing that would be a wrong move. That's because, it is a highly saturated niche. Many billion-dollar companies create content around it and gobble up all the traffic – your content would barely get any.
In that case, you must niche down further. Think about creating content around running in the countryside as a niche, instead of generic – running. You can still create a lot of content around it and actually generate traffic.
Avoid Your Money Your Life (YMYL) niches if you are going down the blogging route. The YMYL niche comprises content that influences people's well-being and financial security.
This niche category deserves a special mention because Google asks for a lot of proof for your expertise in this niche. You need to be a trustable voice, and authority figure in the industry to rank on Google search.
If you start blogging about medicine or making money online, you may find yourself stepping deep into the YMYL territory.
Unless you are really an expert with a proven track record, avoid YMYL niches.
Look for niches with adequate affiliate potential. If you target niches with low ticket value and few products, you will find it difficult to make money in the long run.
For example, if you create content around books, you will find products on Amazon, but they cost very less, say $10. With an 8% commission, you make just 8 cents per sale.
But if your niche is mattresses. You sell items worth $150 and make about $15 per sale.
The effort is the same, but you make more money selling mattresses than books.
2. Identify the platform where you want to sell Affiliate Products.
Any platform where you can draw an audience and engage them can be used to sell affiliate products. Even if you have an existing private network on WhatsApp, you can share the link there and start earning.
Some affiliates promote through Google Ads too, even though it's not recommended.
However, you will always need new traffic to grow your affiliate business. So, it's ideal that you get on one of the platforms that we are about to discuss so that you have a place where you can host your content and keep it there for a long time.
Depending on your preference to step in front of a camera, your choice of platform will vary. Irrespective of the platform, bear in mind that as a beginner, you will need at least 8-12 months to build a decent following and start earning serious money.
Here are a few popular platforms for beginner affiliate marketers:
A WordPress Blog
Blogging is the ideal way to get started with affiliate marketing if you don't like being on camera. Yet, you can add images of you using the product you promote, or just the product alone to increase the authenticity of your content.
A blog lets you build sustainable organic traffic, capture emails to increase the count of returning visitors, and host content on an owned platform.
Once you start getting traction, one successful blog post can drive consistent income for years to come. But with a blog, you need to be really good with SEO to get Google rankings.
It's worth noting that hosting the blog on WordPress lets you have a lot of flexibility. This CMS allows an easy-to-use interface for bloggers. It also facilitates the simple implementation of Ads for additional income.
If blogging is your thing, you must learn how to create an affiliate marketing blog with WordPress.
YouTube
Video is a popular mode of information consumption, this makes YouTube a popular platform to build and interact with your audience.
Also, it is slightly easier to be discovered by more people on YouTube, than through Google search, because of the video suggestions column. When viewers watch a video from a popular vlogger, they might see your video thumbnail in the suggested videos section.
This means you get seen even without appearing in the YouTube search results. Of course, YouTube SEO is equally important, but there are more ways to be discovered by new audiences on the platform. This makes it easier to target YMYL and highly competitive niches, compared to Google search.
You can do product reviews in addition to creating informative videos that do not focus on affiliate marketing.
YouTube can be useful as a stand-alone platform and also supplement your blogging efforts.
Instagram
Instagram is a good medium for affiliate promotions, especially for visual niches. If you go for lifestyle, sports, fitness, or similar niches, Instagram is the perfect platform.
However, the platform is saturated. Many top players own the scene, making it difficult for beginners to breakthrough. Also, unlike blogging, your content becomes stale within hours. You need to be prolific for success on Instagram.
Other Platforms
Many other platforms facilitate affiliate marketing. In fact, any place where you can build an audience can be used as a point of sale. A few of them are – Twitter, Podcast, Pinterest, Tik Tok, etc.
3. Identify your target audience and pain points you want to address.

By now, you know what products you want to sell and where you want to sell them. It's equally essential that you determine who you sell it to.
You can do that by answering these questions:
What does your target audience look like?
What problems, relevant to your niche, do your people face?
And how can your content address their issues?
In addition, you need to figure out their search intent. What would they look for in a product? If they were to search it on Google, what would they type into the search bar?
Once you have answers to these questions, create content that aligns with your research.
4. Create content for people not for money
No one likes to be sold – there's a natural human resistance to it. Plus, people recognize affiliate links, so they won't click on them until they recognize you and see you as an authority.
No one wants to be taken advantage of. For example, if you share an Amazon affiliate link somewhere on Reddit, people will smell your intention to take them to the Amazon website, and no matter what they buy in the next 20 hours, they get a commission.
Given this resistance, it's imperative that you first build a following through one of the platforms that we discussed in Step 2. You do that by creating quality content focused on helping people.
When people see the value and recognize you are an authoritative source, they will be more open to clicking on your affiliate links. Ideally, if you create one content piece focussed on affiliate products, make sure you create at least three pieces that focus on adding value.
5. Pick Affiliate Networks and Affiliate Programs.
Many quality affiliate networks offer varying levels of commissions to affiliate marketers. It's easy to get into affiliate networks that offer low-ticket products. In fact, Amazon accepts literally anyone, even if you don't have a platform.
However, the networks that pay more are more choosy. Ideally, you must have a decent following on at least one platform to be accepted on a network. But, even with a thin follower base, attempt to sign up with Affiliate networks, you may get through a few.
Once you get accepted, you will have access to all the affiliate programs hosted on the network. You'll see all the companies that hired this network and products relevant to your niche. Based on how much it pays and the payment structure, you can apply for these programs.
If you do get accepted, the network will provide you with unique links that you can use across your content.
6. Use the Product Before Creating Content Around it.
By now, you started building an audience and winning their loyalty by providing valuable content that addresses their pain points. It's time you recommend products that will benefit them.
The best way to do that is by buying the product yourself and writing a review article sharing your experience. This way you add authenticity to your content. Include images of you using the product and how it made your job easy.
This way, you are not just another affiliate marketer who stamps a link to make a commission, you are an authority figure who cares about their audience.
Also, if you are an Amazon affiliate who makes review-based content, refrain from using Amazon reviews as the source. It's your experience that your followers want to learn about, not what other people think about the product.
Use multiple products from different brands that serve the same purpose and segregate them by price points. Or, if you use products in the same price range, you can rank them in the order of their utility. These are a few ways you can include multiple products in your content and earn more.
7. Do Primary Research and Publish Content Around Your Findings
Primary research will set you apart from your competition. A lot of websites pick information from another source to publish content quickly. When you do original research, you own content that no one else has. This gets you more traction and followers.
Research need not be expensive. You can visit the physical store that sells the product category of your niche and ask the salespeople for an interview, in return for a mention on your platform. You can get intricate details of the products and do a thorough comparison.
This way you need not buy a product to research. But in case you want to buy one, you can take it home and create a timeline-based review – How the product performs 3 months from purchase, and then 6 months from purchase, etc.
8. Drive Traffic to Your Affiliate Focussed Content
Once your content piece is ready, it's time to drive relevant traffic to it. You can do that through:
Paid Ads
Irrespective of the platform, you have an option to run paid Ads. As long as you keep paying, you get traffic, but once you stop advertising, your traffic plummets.
Also, Ads cost a considerable amount of money. And as a new affiliate marketer, you do not know yet, how much you make per 1000 visitors. This means, you may end up spending more than you make, especially if you deal with low ticket items.
However, if you sell high-ticket items, paid ads are worth the investment, as you need fewer sales to break even.
Organic Traffic
Organic Traffic is the traffic you get predominantly due to high-quality content. This form of traffic is consistent and converts at a better rate than paid traffic. That's because, these visitors searched for your content and clicked on your listing, instead of discovering you through a random Ad.
Organic traffic is what you want to focus on right from the beginning of your affiliate marketing journey. It takes time to get going with organic traffic, but once you hit the stride, you get a steady stream of high-converting visitors for months or years, without having to produce new content pieces.
To generate organic traffic, you must ensure that your content is optimized for search engines (SEO), especially if you sell through blogging or YouTube. In addition, you must use relevant hashtags and keywords on social media platforms.
9. Get More Clicks on Affiliate Links
You can get the whole world to land on your affiliate page, but if your affiliate links do not stand out, you won't make money.
You must give space and visibility to your affiliate links. If you include them within the text as hyperlinks, make sure that the anchor text is relevant.
Additionally, place these links in the top folds of the page. No one will find the links if they hide in the conclusion or even the lower folds of the text, as fewer people scroll all the way down.
A good way to highlight the links is to place them in a separate block that stands out from the text.
To track the number of clicks each link gets on a page, set up heatmaps. These maps will show you how far down the page do people scroll, and where on the page they click. Analyzing heatmaps will help you identify where you must place your affiliate links to maximize clicks.
10. Analyze your performance
Every affiliate network offers a dashboard to affiliate marketers. There, you can check how much you made from individual affiliate links.
Once you spend months selling a range of products, you will know which product drives the most revenue. You can then create more content around that product and earn even more.

How to start affiliate marketing with no money?
Follow these 9 simple steps:
1. Pick a Micro Niche.
Succeeding in niches with the high competition requires a big budget. Your competitors have already set up a base and built on it, so to beat them, you need to produce a lot more quality content at a fast pace. As a solo affiliate, it's humanly not possible to do that.
The only way to succeed is to find a micro niche with lesser competition. For example, cooking is a highly saturated niche with many seasoned players. If you start a hobby blog on cooking, you won't get any traffic until you focus on a specific brand of cooking.
Even if you pick a sub-nice like Indian cooking, you still have high competition. So the solution is to choose a micro-niche like cooking Mexican dishes using an air fryer or outdoor cooking for vegan dishes. This niche attracts a sliver of online audience base tuned in to cooking.
It has much less competition and more potential to generate revenue. Once you develop authority in the micro-niche, you can "niche up" and cover content on broader topics within the niche.
Here's where you can find the exact steps you need to follow to pick the right niche.
2. Select a Free Platform to Grow Your Audience.
We have already established that starting a blog requires an initial investment. But does that mean you can't earn money through blogging without investment? Nope. You can leverage platforms like Medium and Blogger to promote your affiliate products for free.
Remember, you can't drive a lot of organic traffic through these domains because they cover a very wide audience base. For example, Medium has blog posts on cooking, sports, relationships, marketing, etc. The list doesn't end there. Google and other search engines do not provide topical authority to the platform. But you can sell products to visitors local to that platform.
If videos are your choice of content type, YouTube and Tik Tok are your best choices. While Instagram and Pinterest are the best affiliate marketing platforms for an image-based business that let you start without investment.
But the list doesn't end there. Here is a complete collection of free affiliate marketing platforms.
YouTube
Tik Tok
Pinterest
Instagram
Downloadable Content
Blogger/ Medium
Quora/ Reddit
Direct Messaging – WhatsApp, Telegram
Free Landing Pages
Check out our blog post on free affiliate marketing platforms, where we have covered the above list in detail.
3. Produce and Edit Content Using Free Tools.
Many content creators feel that they need to invest a lot of money to create quality content. Though that's partially true – you do need top-quality content to succeed in Affiliate marketing – but in the beginning, you can go slightly easy on content quality.
Create Images, Gifs, and Videos Using Free Tools.

Suppose your niche is dishwashing – an iPhone image of you using the dishwashers is sufficient. You do not need a DSLR image carefully edited by a photoshop expert. And if you want to enhance quality for free, many free online tools help you edit the image. Even Instagram filters work.
Also, websites like Unsplash, canva, pexels,etc., host thousands of license-free, professional images that you can pick and use.
If you intend to create images instead of using the free ones, Canva is the best tool for that. In fact, you can create videos, powerpoints, infographics, and gifs using this tool.
Write Quality Content Using Free Tools.
Using free tools applies to content writing as well. You do not need a paid Grammarly account right away – a free account will do. It lets you quickly edit obviously grammatical errors. Also, though it may take a while, you can address advanced suggestions in the Grammarly editor with a bit of intuition.
In addition, you can use the Coschedule Headline analyzer to write catchy titles. This tool is free for 25 use cases, but it cuts down on features after that for free accounts.
4. Distribute content using free tools.

As an Affiliate Marketer, aim to attract relevant traffic to your content. Accomplished businesses hire SEO agencies and Social Media Marketing managers to drive quality traffic. However, since you function in a micro-niche, you do not need a huge team to take care of that. You can do it yourself.
Free SEO Tools
SEO matters not just for a blog but also for your social media posts. Getting your keywords right is essential for both platforms. But if you own a blog, generating quality backlinks is equally important.
A ton of free tools can help you with that. Ahrefs, Moz, SEMRush are efficient tools that have some free options. For example, Ahref Backlinks Checker is an efficient tool to check the backlinks of any website – you or your competitor. SEMRush is a gem for keyword research.
You can use Google Pagespeed Insights to check your page load time and optimize it. GTMetrix is yet another free tool that you can use for technical analysis.
Google Analytics can help you with data analysis for your campaigns.
There are many other tools like Ubersuggest, Keywords Everywhere, Answer the Public that this website uses regularly.
These tools will help you optimize your content for search intent, driving organic traffic to your platform.
Free Social Media Tools
Social media tools can help you write better posts with greater reach and traction, schedule your content, and analyze performance. They can also help you with social listening that tells you what your target audience is talking about. You can also do a competitor analysis and comparison with them.
Email Newsletter Tools
This method is useful only after you get some success from SEO and Social Media. Essentially, you get visitors from different channels to your content and ask them to subscribe to your newsletter.
If your content is helpful, your audience might want to get more of it, and that's when they will subscribe. Over a few months, you will build a substantial email list.
Next, you can send weekly/monthly email notifications to attract returning visitors. The more frequently people interact with your business, the better the chances they purchase your affiliate products.
Many service providers let you use their template and database for free. For example, Mailchimp allows a basic template and automation for a small email list at no cost. You can set up your email campaign using this tool.
The problem with using free tools is that you do not get everything in one place. You need to juggle across tabs, and you will find it tough to identify a single source of truth. In addition, free tools come with a limited time functionality, after which their features are highly limited.
But if you want to start your affiliate business with no money, that's the way to go.
5. Avoid Outsourcing in the Beginning.
When you start affiliate marketing for no money, you will find yourself doing everything. It's equivalent to a full-time job. It takes consistency, discipline, and months of hard work before you earn your first dollar.
You may find putting your savings into the business – is a sensible way to cut down on the workload. Investing in your business is good if you can afford it. But since this blog post talks about affiliate marketing without investment, I will ask you to hold your horses.
Outsourcing is an expensive proposition. Quality content writers, VAs, social media managers, and designers do not come for cheap. Hiring them will increase expenses while making no money for you for a long time.
So as hard as it may sound, you have to do everything yourself, at least till the point your business is making enough money to sustain itself. You can then put every dime your business earns back into it and watch it take off.
Affiliate marketing is a test of patience; that is why choosing the right niche is so important. You will run out of patience and passion if you are not enjoying the process. Creating content for a long time while seeing no profits is the name of the game – the only thing that can sustain you is your love for the topic.
6. Sign up with Free Affiliate Networks.

Now you know how to create and distribute content without a financial investment. It's time to start looking at the revenue options.
Affiliate networks are platforms where merchants advertise their products to affiliates who can then apply for the merchant's affiliate program. If the merchant likes the affiliates' credentials and follower-base, they accept them into the program and both parties get into an agreement.
These portals help merchants set up their program while providing affiliates all the assets they need to succeed with affiliate marketing for the sellers' products. They help affiliates get unique links and access metrics.
Even though most affiliate platforms are free, a few of them charge a small refundable amount to keep the platform spam-free.
You can sign up with any network and apply for any merchant affiliate program that you like and start selling at no cost.
7. Select products with a reasonable ticket value.
As a beginner affiliate with no money, you must optimize your limited resources. You invest hours in creating content and distributing it, so you must create the right assets that can potentially generate some income.
If you target high-ticket products like refrigerators, TVs, dishwashers, etc; you are limiting your sales. This is because people do a lot of research before making a purchase decision. A single Pinterest image or medium blog post may not be enough. So, once they consume your content, they will read other opinions and reviews and not use your affiliate link to buy anything.
Alternatively, you will barely make any money if you target low-ticket products like books, cups, etc. That's because a low-cost product, even with high commissions, will generate a low income for you.
For example, a high-ticket product worth $2000 will generate $200 income for you at a 10% commission. But a product worth $50 will generate only $5 at the same commission rate.
Do not go too high or too low in terms of the ticket price; pick something in the middle. For example, a product worth $150 will generate $15 at a 10% commission rate. $15 may not be a big amount, but this product can surely make more sales than a $2000 product. So what you lose on the ticket value, you gain on the volume of sales.
And once you build enough authority in your niche, you can sell items worth more because of your newfound brand value.
8. Create free assets to direct your traffic to.
You may not have an owned platform (like a blog) to create and host pages, but you still need landing pages to direct your visitors to. Landing pages can host your subscription form, product information, or anything else that can either add trust to your business or generate sales.
You can create landing pages with your email service provider but Wix lets you create them for free, and so does Canva.
Another destination where you can divert your traffic to is informational assets like eBooks, PPTs, PDFs, etc. These assets can be used to pack more information that your visitors may need to make a purchase.
But make sure these assets are well designed. Even when you are in a no investment business, you can't afford low-quality pages. A well-designed asset can generate more sales than a template.
As discussed earlier, you can make your content design stand out with Canva.
9. Connect your accounts and assets.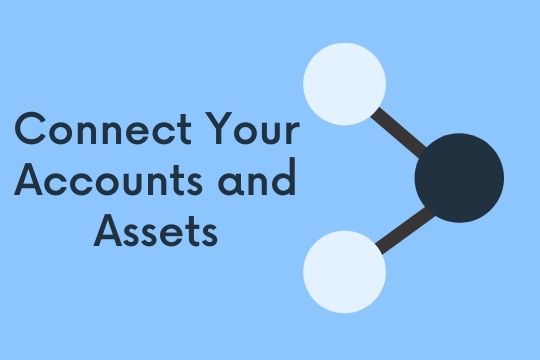 By now, you have a set of social media platforms, free accounts, landing pages, and other assets that you use to promote your affiliate products. Each of them generates traction through different channels like SEO, Social Media traffic, Email traffic, etc.
What if you could combine the powers?
Sure, Captain Planet won't show up, but your business might boom.
The more connected your business is, the more aligned your efforts are. Your visitors will consume more of your content, leading to better conversion rates.
So if you have a Tik Tok account and Pinterest account, make sure you ask your followers on each platform to follow you on the other. Similarly, include links to your social handles on your landing pages. The intent is to keep visitors hooked to your content for as long as possible.
How Do Affiliate Marketers Get Paid?
There are three payment models in an affiliate business:

Pay per Click
Through this model, you get paid for the traffic you drive to the product page through your affiliate link. For example, if a company offers 2 cents per click, you need to drive 100-page visits to make #2.
Pay per Lead
Under this category, the company pays you for leads you generate. Suppose you sell subscription-based products – for every person clicking on your affiliate link and subscribing to a newsletter, or signing up for a demo, you get paid a fixed sum.
Pay per Sale
This one is simple – you get paid for every instance of purchase through your affiliate links. However, there are two types of payment models under PPS:
Fixed payment – You get paid a lump sum for each sale.
Recurring payment – You get paid for the initial sale but you also get a recurring income for subscription-based products.
Costs Associated with Affiliate Marketing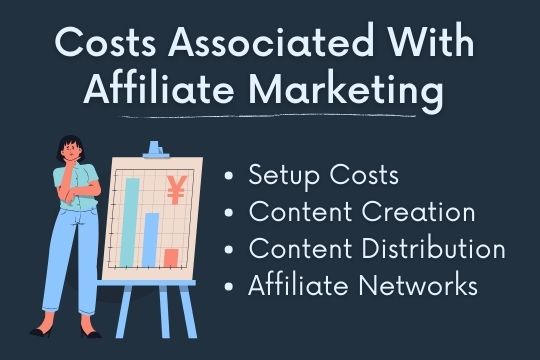 Here are a few aspects of affiliate marketing that require a budget.
1. Setup Costs:
The most popular and effective way to manage and grow an affiliate business is through a blog. It lets you attract organic traffic that converts at a better rate, build an email list, and develop trust and authority.
But there are a few setup costs associated with running a blog. The list includes purchasing:
A web host like Hostinger, BlueHost, etc.
Domain name.
A theme.
Website Design
However, many beginner affiliates opt for free themes to save on costs.
2. Content Creation:
Irrespective of the affiliate platform, content creation requires a budget.
Affiliates who own a website recruit content writers and editors to craft high-quality blog posts that attract traffic and drive sales. They may also hire photoshop experts to design their banner and in-text images, gifs, and other visual media.
YouTubers and Tik Tokers may hire video editors and Adobe Premiere Pro and After Effect experts. Some richer affiliates hire VAs to manage their account.
Affiliates on Instagram and Pinterest hire photoshop experts, social media managers, and VAs.
3. Content Distribution:
Creating quality content is only half the work done. It is equally important to get the content to the relevant audience. Affiliates may spend on:
Paid advertising on Google and Social Media is the fastest way to drive traffic to affiliate pages.
Search Engine Optimization (SEO) is the best way to drive organic traffic to a website. Affiliates usually spend on tools like Ahrefs, SEMRush, etc.
Affiliates may outsource SEO, Paid advertising, and social media management to marketing agencies that usually cost a bomb.
4. Affiliate Networks:
Most affiliate networks cost nothing, but some premium portals charge a fee.
Now that we know where affiliates spend to sustain their business, we can discuss how you can avoid that.
Advantages of Affiliate Marketing

Anything worth the effort is difficult and overly saturated. Affiliate marketing is no different.
Often, you may not make a lot of money right away. As we will discuss later, you need to build a presence and get people to trust you before they go clicking on your links. Affiliate marketing is a LOT of effort!
But there is light at the end of the tunnel. Here are some benefits that make affiliate marketing worth the effort:
Source of passive income
The nature of this business allows you to create assets one time and reap benefits from it for a very long time!
For example, if you plan to generate affiliate income by blogging, you can write evergreen blogs while listing affiliate products that will be online as long as you pay for your hosting. And you can make money from it forever, theoretically.
Of course, you still want to create more quality content to keep your user base and target even more affiliate products. But you don't have to create content at as big a scale as you do in the beginning. This means you put less time into business and more into life.
Earn Through your Passion
The first step of starting an affiliate marketing business is selecting a niche. You can pick something that you are passionate about and get started with it right away.
For example, if you love Tennis, you can create YouTube videos showing your skills and providing tips. You can use affiliate links for your gear In the video description and make money.
Or, if someone suffered from Cystic acne in the past, and wants to help others through their skincare journey, they may start a blog and share remedies.
However, as we will discuss later, you just can't pick any niche. Yet, many niches will fall in the purview of your interest that you can pick and profit from.
Low Set-up Cost
To get started with Affiliate marketing, you need to pick an online platform and publish content there. You can choose Instagram, Twitter, YouTube, Pinterest, etc., all of which allow free accounts and content hosting.
Even if you promote products through videos and images, you don't need a DSLR or a photoshop expert in the beginning. Your iPhone filters will do.
However, if you plan to promote products by blogging. You need to purchase a domain and hosting which does not cost a limb.
Low set-up cost is the primary reason why affiliate marketing is over-crowded. However, it allows anyone short on funds to start a business.
Minimal Risk
Affiliate marketing is, no doubt, a lot of effort. You may end up investing hours into it with poor returns.
But you sit safely money-wise. Even if your affiliate business fails, you can learn what went wrong, and set up a new account on your preferred platform on the same day.
Suppose you started by selling shoes on Instagram, but realized there's too much competition, compared to (say) watches. You can abandon the account you create to sell shoes and open a new one for watches and start all over again.
Potential to Scale Up
Beginner affiliate marketers have no clout, no one knows them and they have far less content to qualify them as experts or influencers. This makes it challenging for them to sell high ticket products to their tiny audience base.
Think about it, who would influence your buying decisions more? Someone whom tens of thousands of people follow, or a new guy with 10 posts?
You, in the beginning, are the new guy with 10 posts so you stand a better chance of making a commission on a $10 product than a $1000 product. That's because a $10 product comes with smaller risk and low buyer's regret.
But once you build an audience base, you engender more trust in people who follow you, plus your audience size will help you influence buying decisions of folks new to your business. You can then sell high ticket products – worth more than $1000 – and earn big commissions.
In fact, if you build a really big audience, you can negotiate with product owners for a bigger cut.
Potential for High RoI
As you publish more helpful content and build your following, your income shoots up. The blog post you wrote a year back can still make money for you.
Essentially, you invest once in creating the content piece, update it occasionally, and reap benefits for a very long time!
The low initial investment, coupled with huge affiliate income makes for a very high Return on Investment.
No Need to Create a Product
A lot goes into creating a product. You need to interact with developers, designers, and other stakeholders while managing a budget and keeping the project within the deadline.
Plus, you need to take care of legal aspects, manage finances, invest in marketing, and a lot more.
But if you are an affiliate marketer, you need not do any of that. You just have to build a loyal following and sell products that others create. Also, there are no targets! You are not answerable to anyone.
Skip Customer Support
Since you do not create the product, you are not responsible for customer service either.
For example, if you sell Amazon products, you exit the equation after someone clicks on your affiliate link and makes a purchase. You are not responsible for the product being faulty or not getting delivered – Amazon is.

Measurable Success
Affiliate programs are an important link in the chain, they provide a platform for product sellers to convey affiliate terms and for affiliate marketers to consider them.
They generate unique affiliate links for each marketer and track how many clicks they get, what percentage of them purchase the product, and how much commission affiliates get.
This means, you know how well your affiliate campaigns are working, and how much money you make – all available on your dashboard. There is 100% transparency.
The Biggest Challenges of Affiliate Marketing
These are the biggest challenges that most affiliate marketers face:
Picking the Perfect Niche
The Internet is decades old now, blogging is almost as old, and most social media channels are supersaturated. People have inundated every niche with quality content, making it seem impossible to find a profitable niche.
This has pushed beginners to look for micro-niches that have lesser traffic. The trend today is to start with a micro-niche and then once marketers get enough traffic, niche-up.
To accentuate the drawback, Google has introduced the concept of Your Money Your Life (YMYL) to allow only proven experts to write on niches like health and wealth, that impact well-being. This limits new affiliate bloggers to infiltrate into YMYL territories.
Driving Relevant Traffic
On paper, affiliate marketing seems quite straightforward – you just need to pick a platform, create content, and attract an audience to sell products. However, it's no easy task to drive traffic.
If you go for paid Ads, you risk losing more money than you make. Plus, paid traffic does not convert too well.
Even if you take the organic route, it takes a very long time for the traffic to trickle in.
Building Trust and Initial Following
Driving traffic is one thing but building a follower-base is a different ball game altogether. As a beginner, no matter how much value you add, people will not trust you immediately. It will take them multiple visits to your affiliate platform before they consider subscribing or following you.
And yet, it takes more persuasion before they buy something through your recommendation. As a beginner, you are practically creating content just for bots because barely any human visitors access it, and even fewer engage with it.
It takes a fair deal of patience and persistence to succeed with Affiliate Marketing.
Picking the Right Products to Sell
Affiliate Marketers need to look at products through various lenses –
Relevance to audience
Price Range
Income Potential
It is not advisable to pick low-ticket products to sell because even with a high commission, the value per sale is too low. Yet, it's easier to sell low-ticket products, so beginner affiliate marketers may swerve towards that option.
But that's not it, the product must align with the needs of the target audience too.
Driving Conversions
Getting people to click on your affiliate links is not an easy task. No matter how much you decorate the CTA buttons, there will be resistance to clicking on it.
And even when you get clicks, your income depends on how well the landing page sells the product.
As you will see in the next few points, a lot is not in your hands when it comes to Affiliate marketing.
Variations in Commissions
It's common for affiliate programs to alter their commission structure. For example, in 2020, Amazon slashed its commission rates by more than half! And the Amazon affiliates could do nothing about it.
In fact, if a company chooses to shut down its affiliate program overnight, there's nothing you can do while your income vanishes into thin air. All your content is useless now, none of the links work, and you have no choice but to close your business.
High Degree of Uncertainty
If varying commission rates won't deter you, a change in search algorithm may well do that job. Every year, Google introduces key changes to its algorithm to make search more valuable to its users.
At times, Google's core algorithms may cause temporary (or even permanent) fall in rankings, resulting in plummeting organic traffic. This translates to lesser revenue, and again, you can't do much about it.
Is affiliate marketing worth it?
Affiliate marketing has many challenges as discussed in the previous section. So, should you get into it?
It is worth it because of the potential to earn passive income. Once you create assets that match products with the right audience, it can generate sustained revenue for years.
If done consistently, affiliate business owners can generate sustainable income, obviating the need for a job. Many affiliates have done it in the past, and even in 2022, it's equally efficient.
Can you start affiliate marketing with no audience?
Yes, most affiliates start without a following or a subscriber-base and make a good income. But beginner affiliates should expect to wait for months before they make their first affiliate sale.
It's common to not have an audience in the beginning but affiliates should focus their efforts on building an audience base through email lists or social media activity. Otherwise, they can't get a sustainable income from their affiliate business.
Conclusion
Affiliate marketing is a world full of opportunities and challenges. You stand to earn a lot of money, good enough to replace your daily job, but at the same time, you are under the threat of losing it all in a day.
In this blog post, we covered various facts of affiliate marketing, relevant to beginners. Starting with the definition, we walked through the organization, techniques, and intricacies of affiliate marketing.
We believe we covered everything that a beginner must know, but we are open to questions. If we have missed anything, or if you want to ask us something specific to your business, please put your comment below.