Learning how to get natural backlinks should be the most important step of your backlinking campaign. Generating backlinks through outreach is an uphill task. It takes a lot of time, requires a substantial budget, but still does not guarantee results. Even if you identify quality websites for your guest post, you can never be sure if the backlink is permanent.
Plus, Google may change its definition of a good backlink in its next algorithm update and hit you with a penalty. It will destroy your rankings and traffic.
But what if you could get backlinks without investing a dime or a minute in it? What if you need not dread algorithm updates? Sounds too good to be true? Not when you build natural backlinks.
What are natural backlinks?
Natural link building is the process of acquiring backlinks without asking for them. The links that a website gets because of the quality of content and value it offers, and not because of a backlink outreach campaign are known as natural backlinks. These backlinks are free and completely white-hat.
A backlink profile in which the majority of backlinks are acquired organically is known as a natural backlink profile.
Google prefers a natural backlink profile, in fact, paying for a backlink is seen as a manipulation of its search algorithm.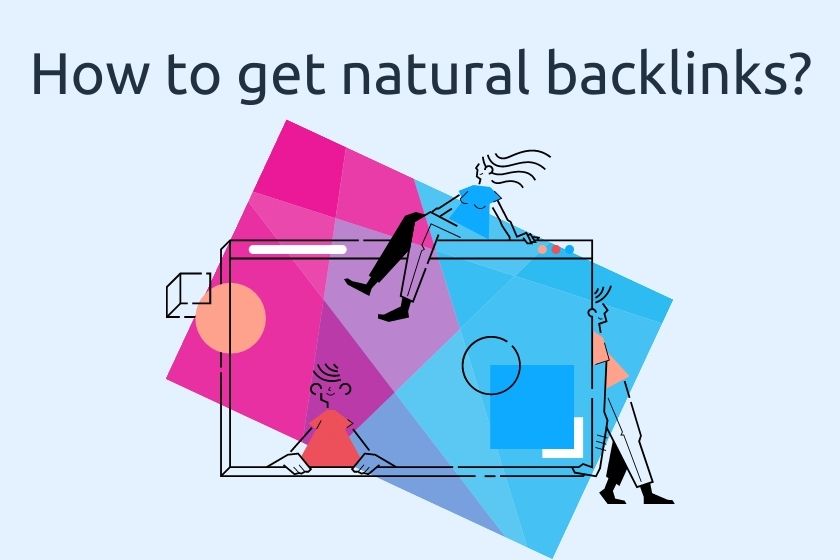 To get natural backlinks you need to create top-quality content, packed with valuable information that can't be found elsewhere. You need to interact with people from your industry, include original research, conduct webinars, and more.
Here are the 13 ways to get natural backlinks:
1. Create Infographics
Infographics are images that condense all the information on your blog into a single canvas. This makes them visually appealing and packed with information – a perfect cocktail for viral content.
You can create killer infographics using Canva and share it on social media platforms like Pinterest. They also show up in the Google image search results and also next to the snippets you score, thus generating more visibility for themselves and for your blog posts.
Canva comes with a preset for infographics. You can simply click on Create a design as shown below and select infographic.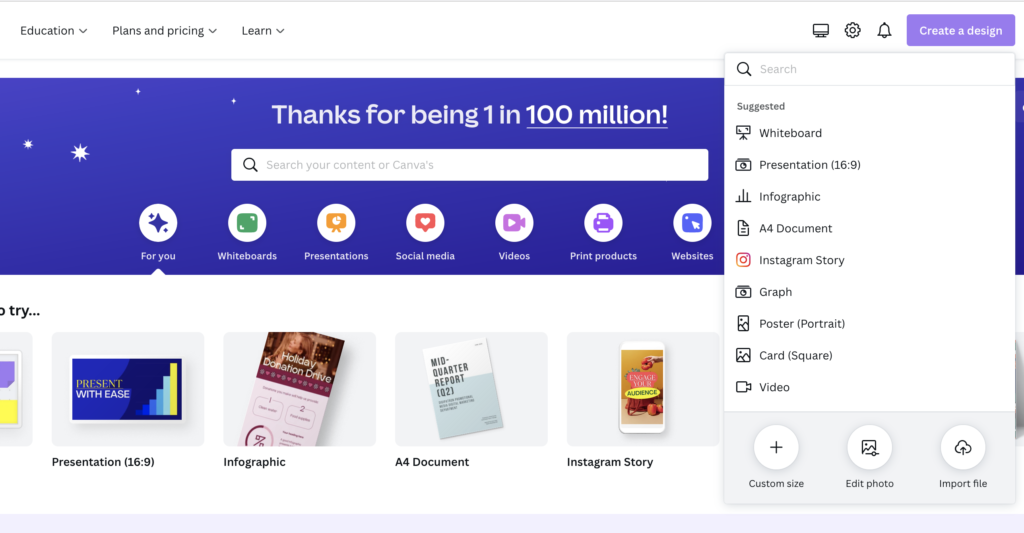 Canva then opens a window with a blank canvas along with a list of templates. The templates are editable, so you can start with something ready made and customize it. Or, you can create a brand new design from scratch.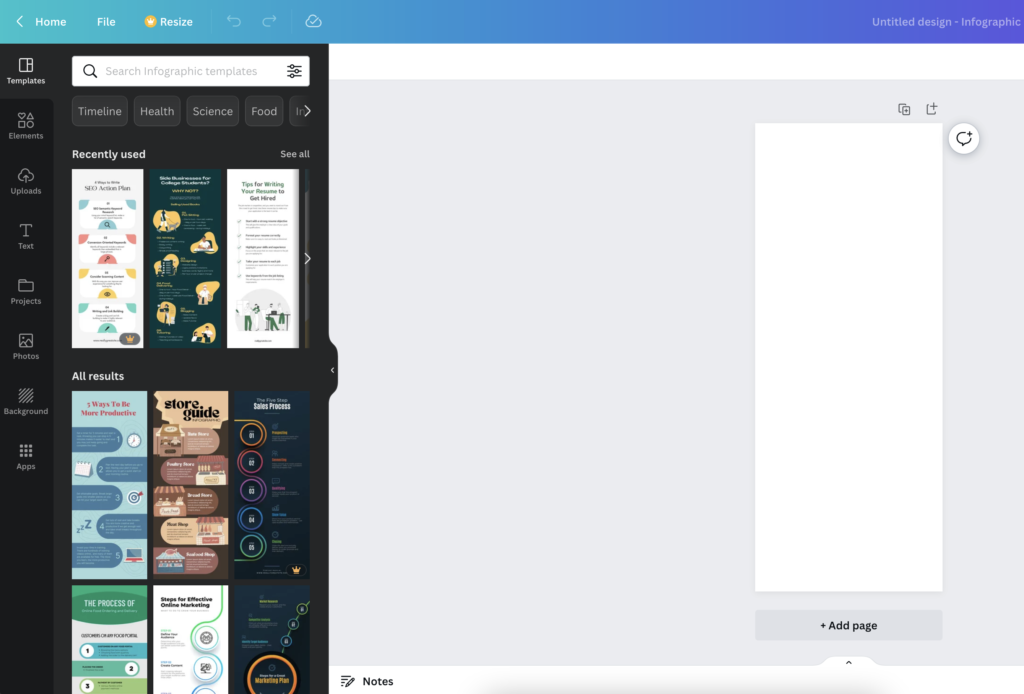 Also, Canva is free to use. For all practical purposes, you don't need their paid version.
2. Publish List Posts
The list post is an article in list format. It can cover different ways to do something, an ordered list of items, top tested results of an experiment. Etc.
List posts are a snackable form of content, people share and spread them at a fast rate. Plus, you can write them quicker than bulky how-to posts. You can also back your list posts with an infographic to make them more clickable on social media.
Most businesses need an SEO content writers to generate leads through content.
3. Powerup content with original research
Most blogs take content from other blogs and rewrite it to prevent plagiarism. From a search engine perspective, it's hard to tell the difference between two such blogs. One sure way to stand out from your competition is by writing blog posts that have unique data.
In that case, when someone looks for data that only you have, Google has no option but to serve your website as the top listing. This gets you more eyeballs. Also, from other bloggers' perspective, if they find the exact information they are looking for on your blog post, they will use it as the source.
The only way to get unique data is through primary research. In every industry, there is scope for it. You need to find those opportunities and invest time in research. Next, you can present the content in a table format or in an image form to make it more linkable. Getting original data is the best way to build backlinks naturally.
4. Craft In-Depth Guides
In-Depth guides are long 3500-7000 word blogs that are packed with information related to a particular topic. These guides are great in helping you rank for one competitive keyword and some related long-tail keywords.
These guides, once they rank high on Google, will generate a lot of traffic to your blog. This organic traffic is instrumental in driving natural backlinks to your website. But you need to have solid content in a presentable form to get more social media shares and backlinks.
5. Get regular with video blogs
Videos are a great way to drive tons of traffic to your website. When you publish regularly on YouTube, you eventually build reputation and subscribership.
With that, when you include a link to your website in your Video Description section, you are bound to get a lot of relevant visits. Some of these visits may transform into backlinks.
6. Promote with Podcasts
Podcasts are a great way to build brand awareness for your website. You need not have hour long podcasts, if you provide quality information in a shorter duration, you will still attract an audience to your audio posts.
This audience will find your website from your profile page. This traffic coupled with the power of your brand will get you natural backlinks.
7. Write Round-Up Blogs
A round-up blog is a collection of expert opinions related to a topic. Once you decide on a keyword, you can reach out to industry experts and ask them for a quote along with their website URL. Then you give them a mention on their website.
This gives them an impetus to share your blog as it contains their inputs. This way you don't just build backlinks but also grow your network. This method sure requires some outreach, but you are doing that not to ask for links but to provide something.
8. Participate in Events
Every industry has some events where industry experts meet. Participating in these events builds your network fast!
Even if your business is online, what sells even today is human interactions. Think of it this way, the owner of a website with DA 80 will not bother about the owner of a website with DA 20. But if they meet in person, the dynamics change. The new website now stands a chance to share its content with big players and get some quality backlinks in the process.
9. Conduct Expert Interviews
Once you have enough contacts from the events, you can invite a few of them for interviews. Even if you have no contacts and your website is fairly new, you can still ask people to appear on your YouTube channel or podcast. People love to be treated like a celebrity!
When you publish these interviews and share them on your blog, the interviewee will share them on their blog or on social media. This will get tons of eyeballs, brand mentions, and backlinks.
10. Leverage Social Media
Social Media is the where all your efforts come together. Be it an expert interview, your visit to an event, a new blog post, everything can be shared and promoted on Social Media.
One social media platform that deserves a special mention is Pinterest. This platform allows you to host your images and link them back directly to your blogs and other pages. Pinterest can be instrumental in driving quality traffic to your website.
11. Practice Content Syndication
Content syndication is the process of publishing your content, already hosted on your website, on another platform. You need not change a word, nor worry about plagiarism because you already own the content.
You can republish the same content on platforms like Scoopit and Medium. But you need to include a canonical tag pointing the republished article to the original version. This way, you can direct traffic from these platforms to your website. Since all this traffic is organic and highly relevant, you stand a chance of getting some natural backlinks.
12. Create Quizzes
Quizzes are another wonderful way to attract tons of natural backlinks. You can have quizzes that generate results right on the page or direct traffic to different pages based on their responses.
13. Create Info-products
Info-products like ubersuggest.io deliver a lot of value. They provide a simple solution to a common problem which makes them shareable.
But you do not need a complex tool worth thousands of dollars to start with, you can start simple like a calculator, and still generate natural backlinks. You just have to make the tool extremely easy to use.
Qualities of a Natural Backlink
This is how you identify a natural backlink –
1. A natural follow backlink is from a related website, placed in a contextual setting.
For example, if you get backlinks from directories, often you will link them to the homepage or a sales page. However, when someone mentions your website in a blog, they will link to a relevant blog on your website. This makes the backlink contextual.
2. You can't identify how the linking domain discovered your blog.
The blogger who linked to your article might have found it through any channel like Social Media, Organic Search, etc. You can't tell for sure how you build natural backlinks.
3. Natural links have relevant anchor text.
Natural backlinks are all about the value you add. When bloggers link to your blog post, they will add an anchor text that is relevant to your blog. For instance, an anchor text may quote statistics on your post, like 20% increment in sales instead of your business name.
4. Natural backlinks are completely free.
You don't have to pay a dime for natural links. No outreach, no begging for a link back.
To sum it up, besides being contextual, natural backlinks should also be free and have relevant anchor text.
Why do you need natural backlinks?
It is widely accepted across the SEO industry that natural backlinks are the safest type of backlinks. The biggest advantage of them is that you are immune from a Google penalties as your link building is purely white hat.
In addition, natural links will save you time and money spent in backlink outreach campaigns.
It's a fact that backlinks are important for search engine rankings. They provide proof to search engines like Google that you have quality content that other bloggers link to. But when someone buys backlinks, it provides an incorrect signal to Google about website quality and value. This is black-hat but Google has no way to know that you bought backlinks, for now.
Natural backlinks are what Google intends every backlinks to be.
Here are 5 benefits of natural backlinks.
You get 100% white-hat backlinks
You need not worry about the next Google algorithm update if you have a natural link profile. Natural backlinks are white-hat so you will not be hit by a Google penalty. It's the biggest advantage of building natural backlinks.
You save time and effort
Many businesses hire employees just for outreach campaigns. It is a full time job. It takes hours to write those outreach emails, optimize them, follow-up, and eventually write a guest-post based on the host-bloggers requirements. With natural backlinking, you just write content for your website and get backlinks from it. Simple as that.
You save a ton of money
Guest-posting is not free anymore, nor is link-insertion. It costs at least $100 to guest-blog on a quality website. Still, there's no guarantee that you will keep that backlink forever. Even if you pick the right websites to guest-post, you can still land a bad backlink because you never know where the website stands in terms of future Google penalties.
You keep your content
Creating top-notch content is not easy. It takes hours upon hours to create that one piece that just… clicks. With outreach, you need to give it away for someone else's benefit.
Your content becomes a constant source of referral traffic
When you create content worth linking to (which we will show how in a bit), you grab attention and generate natural backlinks in the process. You get a ton of referral traffic from the websites that link to you.
Paid backlinks, on the other hand, are a temporary source of referral traffic, you need more such backlinks to sustain the traffic. This makes paid backlinks unsustainable in the long run unless you have an unlimited SEO budget.
FAQs
What is the best way to get good natural backlinks?
If you want to do just one thing for natural link building, then do original research and add the findings in your blog posts. When you have data that no other blog has, other bloggers are compelled to link to your blog post to substantiate the claims that they make in their content.
Original data also gets a lot of social media following, which can again result in quality natural backlinks.
What's the difference between natural and unnatural backlinks?
| Natural Backlinks | Unnatural Backlinks |
| --- | --- |
| Built organically | Built through outreach |
| Safe and White Hat | Unsafe & Grey Hat |
| Free of cost | Expensive |
| Sustainable referral traffic | Unsustainable referral traffic |
How to make your backlinks look natural?
It's rare that new websites get natural backlinks because they get so less traffic. That doesn't mean you must wait for them to roll in. If you are acquiring backlinks actively and want to cushion them against Google algorithms, these steps will help you make your backlinks look natural.
Make sure anchor text is relevant but it should not be the same across your backlink profile. If all your backlinks have the same anchor text, it looks unnatural.
Another important thing to consider is not to generate too many backlinks to your homepage. Ideally, your homepage does not have a lot of helpful information. In addition, homepage is usually focused towards selling something to the visitors. Backlinks to sales pages hold low value compared to backlinks to your blog.
Are all backlinks that I acquire without outreach – natural backlinks?
No. At times, you may face a negative SEO attack. In such a scenario, you will get tons of low quality backlinks that can ruin your website reputation and get you penalized by Google.
How to make your backlinks look natural?
A backlink looks natural when it comes from a website that is related to your niche, has a relevant, contextual anchor text, and is completely free. In short, a backlink looks natural when you put no effort in getting it.
How to get organic backlinks?
Organic backlinks are the direct result of high quality content that is supported by top-notch design, original research, and white-hat SEO practices. Organic backlinks, also known as natural backlinks, are a by-product of the value you offer to your website visitors.
Conclusion
You now know how to get natural backlinks. You also have a clear idea on why you need them.
Make sure you focus on crafting quality, snackable content and building your network and you should be able to earn natural links.
Which method of natural link building did you like the most?