Selling informational products is a great way to make money online. In this business model, an expert in a specific domain can create evergreen assets and sell them to many people for years to come!

For example, if someone is an expert in creating website logos on Canva, they can templatize their art and sell it to people searching for logo designers. This one time investment of time, money, and effort can yield long term revenue.
Alright, there are sellers or experts who create products and buyers who want to purchase them. But how do they discover each other? Through a marketplace like Gumroad.
What is Gumroad?
Gumroad is an easy-to-use digital marketplace that facilitates monetary transactions between content creators and buyers. It allows creators to craft neat landing pages to host their products and pack them with details that can turn visitors into clients. Creators can then invest efforts in getting potential buyers to the page and generating sales.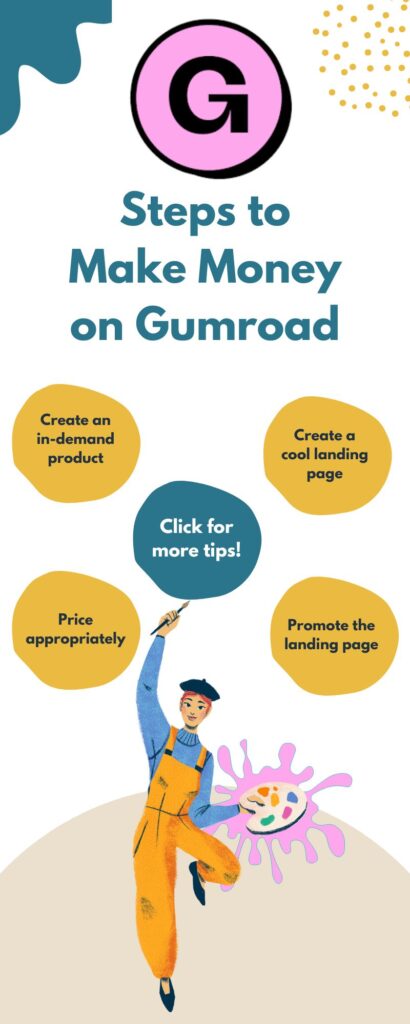 Here's the step-by-step process of making money on Gumroad:
1. Create a product that people want to buy
People are central to your sales on Gumroad. It's obvious that "people" will buy your future products, but many creators tend to forget that. They end up making a product that they like – their potential buyers may or may not want the same thing!
Another set of creators craft a product with the sole intent to sell. If your product doesn't offer real value post purchase – even if it's a free product, it will diminish your brand and people would refrain from buying from you again. And worse, they may leave a negative review that discourages other buyers.
As we will discuss later, Gumroad has a provision to let you send newsletters to your erstwhile buyers. Suppose you sold them a free product in return for their mail ID, through Gumroad, you can reach the same customers to announce your new paid product! How cool is that?
Even so, customers who did not like your previous product will ignore your mails and you lose out on click rate and eventually conversions.
It's always useful to research what people want and more details. For example, a baker might want to sell a recipe book on Vegan Indian bread. They would need to access a keyword research tool and figure out the search volume of vegan Indian bread. If at least 500 people search that on Google per month, it can be assumed that it's in demand.
Similarly, the bakers can look that up on Instagram and Pinterest to see the kind of traction pertinent posts get.
Alright, you finally created a product that is in-demand and you are super-proud of it. What next?
2. Create an account on Gumroad
It's super-easy to signup with Gumroad.

All you need to do is link up with Facebook or Twitter, or just enter your credentials to create a new account.
After that, you just need to approve on your mail or on social media to get started with selling on Gumroad. The acceptance rate is almost 100%.
Also, it's 100% free. Gumroad makes money off the commissions on your sales, it doesn't charge for hosting an account.
3. Create a stellar landing page to host your product
You do not need a website to create a landing page for your product. Gumroad lets you host one for free. However, website writing experience comes in handy.
Get started by clicking on Products from your Gumroad dashboard. Click on New Product next to see the Product landing page widget.

The rest of the landing page creation process is quite intuitive. Make sure you add loads of images to tell your audience what your product is about. People react better to visual media than text.
Pack the product description with positive reviews that you must have collated from different places. It gives you the required social proof to build trust with potential buyers.
Finally, share some anecdotes about yourself. People want to buy from people, not anonymous agencies. So if you come across as a human with your real photo, you will build more authenticity and trust.
These basic steps will help you create a decent landing page on Gumroad but it's only the beginning. You must experiment with the page regularly and optimize it for conversions.
4. Price the product in accordance with your niche and audience
Be it a multi-million dollar product or a simple eBook. Pricing is always challenging. Your product will also seem like something that deserves $100 a piece but over-pricing the product may result in no sales.
At the same time, you don't want to sell at pennies. It takes work to create a sellable product and you deserve to be paid for it. There's a fine line between an overpriced and an underpriced product
It is essential that you consider your customers' purchase power while pricing the product. If your audience is based out of first world nations and is about 25 years of age, you can price the products high. But if you have a different audience base, you need to sell cheaply.
5. Promote the page
The Gumroad landing page is your corner of the internet. You need to make people aware of it through consistent planned promotions.
You can promote your content on the Gumroad marketplace itself by using the right Gumroad SEO practices like using the right keywords in the meta title, content, meta tags, etc. This will enable your product to be visible to people who search for stuff on the platform itself.
But it's a minuscule amount of your audience. You need to reach out to the larger chunk at the place where they hang-out. You can reach out to a huge base through a website or a blog! Google search is huge, many people search for your product or content relevant to your product there.
For instance, if your product is a recipe book, then a cooking blog or a kitchen instruments blog will gather relevant topics and send a motivated audience base to your Gumroad page. With Google, as long as you know SEO, you get consistent traffic unlike the case with most social media platforms.
Other than SEO, Pinterest can be yet another source of traffic for your page. It lets you host images that can be linked to your page – no other social media platform does that. Also, email newsletters can be a cool way to promote stuff. In fact, Gumroad has an in-built feature for that. We'll discuss that in detail in a bit.
6. Sell free products and promote paid ones through them
New creators on Gumroad find it difficult to sell units because they have not built trust with their audience yet. No one wants to buy from the new guy because there's no social proof ascertaining that the product is legit/ useful.
What you must try doing is selling something for free. People love free stuff, they give away their email IDs for it. You can reach out to them later through the mail ID and sell them something that's not free, but first, you need to build trust.
In the free give-away, you can include links to paid stuff. For instance, the free grandma's recipe PDF can have a link to the eBook with 50 more recipes that's not free.
7. Make use of the Gumroad newsletter
Planning to adopt the trick of selling free products before selling the paid ones? The question arises though, how do you find the email IDs of those who downloaded the free product? How do you segregate them from those who paid for a product? With Gumroad, the whole process is easy.
You can send a newsletter out specifically to those who accessed your free products or even those sellers who purchased products within a specific price range. This means, you can not just upsell your products, you can cross sell too.
Click on Posts from your Gumroad dashboard and then click on New Post.

Next, you'll see a wizard that lets you create and submit a social post for your Gumroad audience. By clicking on Customers Only, you can activate the newsletter mode.

In this wizard, you can choose your target audience based on any permutation. Gumroad already has the email database of people who bought your products, it can further filter them based on your requirements. You can target buyers who bought within a price range, from a particular country, and before or after a specific date.
What you type into the newsletter gets hopefully opened and read by potential buyers. If they click on the link to your paid products, click on it and make a purchase, you make extra money! It's a powerful method of product promotion.
8. Signup for Gumroad Affiliate
Gumroad is a great platform to sell your digital products, but to maximize your income you need to make sure that you're using all of the tools available. In addition to providing easy-to-use tools for managing your sales and offering customer support, Gumroad also offers the ability to integrate with an affiliate network called CJ Affiliate.

This allows you to offer additional incentives for customers who sign up through your affiliate link, such as discounted pricing or freebies. This can be especially effective if you have a large audience that already trusts what you're selling—they'll be more likely to sign up if they know there's more at stake than just a single purchase.
Amer Hasovic, Love & Lavender
9. Leverage Gumroad's Boosting Features
Make use of the boosting features on Gumroad to maximize your earning potential. Not only does it offer an earning platform, it also provides features such as Gumroad Discover that once you opt-in to it increases your exposure to potential customers.
This increases sales by having these potential buyers turn into active customers. You will incur only a small fee for this service but the sales that you get out of making this step will be so much worth it.
yongming Song, Imgkits- Photo Editor
Read more ways to make money online
FAQs
Is selling on Gumroad worth it?
Gumroad is great for selling high-ticket digital products in low-volume but selling low-ticket products is not viable because of the high commission charges. Gumroad has a step-wise commission rate which means that the more you earn, the lesser percentage of it gets paid in commissions. Low-ticket sellers have to give a huge chunk of their already low earnings.
What people are selling on Gumroad?
People sell all types of digital products in the form of eBooks, courses, music packs, video software, animation, and so much more on Gumroad. If you create anything, you can sell it there.
How do I start selling on Gumroad?
You can start by selling free products on Gumroad with the goal to spread the word around the quality you deliver. Once you build enough clout, secure free downloads, you can reach out to your audience through newsletters to sell paid products.
Do people actually make money on Gumroad?
Many creators make a decent side-income on Gumroad by selling digital products. They may not make a full-time income but it can make for a good surplus.