Fiverr is often seen as a cheap platform that is inundated with low-quality freelancers across all gig categories. Though there's some truth to this, there are many stellar freelancers on Fiverr who really know their trade.
But finding someone on Fiverr is where the challenge lies. But once you identify the right freelancers for your business, you can kick back and be more sure of the quality of work that gets delivered to you.
It took me about a month to find the right SEO content writers, designers, and WordPress experts for this website. This blog post is a detailed account of what I learned while hiring on Fiverr. Mixed with my experience as a seller too, this post will talk about 20 solid tips for Fiverr buyers that will save you hours and dollars. Let's get started.
1. Do your homework
Hiring talent starts with setting your expectations straight. If you are looking for a seasoned content writer with proven expertise in a niche, write it down.
Looking for designers from a specific city? Put that on paper. You want to hire a technical SEO expert who likes pineapple toppings on Pizza? Well, reconsider your selection criteria in that case.
Being ultra specific will help you shortlist sellers faster. The Fiverr algorithm is sharp enough to find the right people for your focused requirements. You want to have no more than 5 people in consideration, not 500.
If, for example, you plan to hire a logo designer, your checklist should look something like this:
I want to hire a logo designer from the US or Canada who has experience designing logos for automobile websites. The designer has a portfolio with logos delivered to similar Fiverr clients. Their designs are simplistic yet eye-catching. They communicate fast, deliver on time, and have an average 4-star review,
Now compare this with this job description: I want someone to design motorcycle logos.

The second one misses out on a lot of detail and attracts irrelevant applicants. It's not to say that you won't get any low-quality proposals for the first one but there would be fewer of them.
2. Determine the pay
If your sole intent to hire from Fiverr is to get cheap content, be assured you will get cheap content. There are $5 gigs for everything but there's a caveat – the quality of delivery is poor to pathetic.
Irrespective of the platform, you got to pay for what you want. You can't hire a seasoned B2B Saas writer with years of experience and a portfolio in your niche for $5 per 2000 words. It may sound obvious but there are far too many buyers who expect just that.
Do you know Fiverr takes a 20% commission for sellers? They get only $4 for every $5 transaction. Sellers are already spread thin. If you want quality you need to pay for it.
3. Use Fiverr filters
Fiverr filters are a godsend. You get to be very specific – in accordance with the job description – if you use filters. You can filter out freelancers from all but a few countries of your choice.

You can also filter based on seller levels, languages that sellers speak, budget, delivery time, sellers' online status, and a lot more. There are some gig specific filters too.
See the 2797 number up in the image? That's how many gigs Fiverr has to offer for the keyword 'marketing writer'. Lets see what happens after applying filters.

Just 10! It's much easier to shortlist now.
4. Use buyer requests
Fiverr offers you an option to list out your requirements and have relevant freelancers reach out to you.

By clicking on Post a request as shown in the above image, you can access another widget that lets you fill out your details.

After submitting your requests, you can sit back and wait as Fiverr displays your requirements with sellers listed under the specific gig category.
In my experience, these often attract low-quality sellers but it's sometimes a decent option if you don't want to put effort in setting filters and doing an outreach.
Buyer requests have been responsible for filling about 12% of my requirements till date. It's not a bad option, but I would prefer outreach over posting a request.
5. Ask sellers to respond with a secret word
In the buyer request form, you can hide a word towards the end of the description and ask readers to respond with that as the subject line. It's an easy way to filter-out responses from freelancers who did not invest time in reading your description.
6. Bookmark sellers
Seller bookmarking is a great way to save a repository of seller to be accessed for future orders. If you found a seller who is a good fit for some other project that you plan to pick up later, just bookmark them. It will save you time in finding sellers in the future.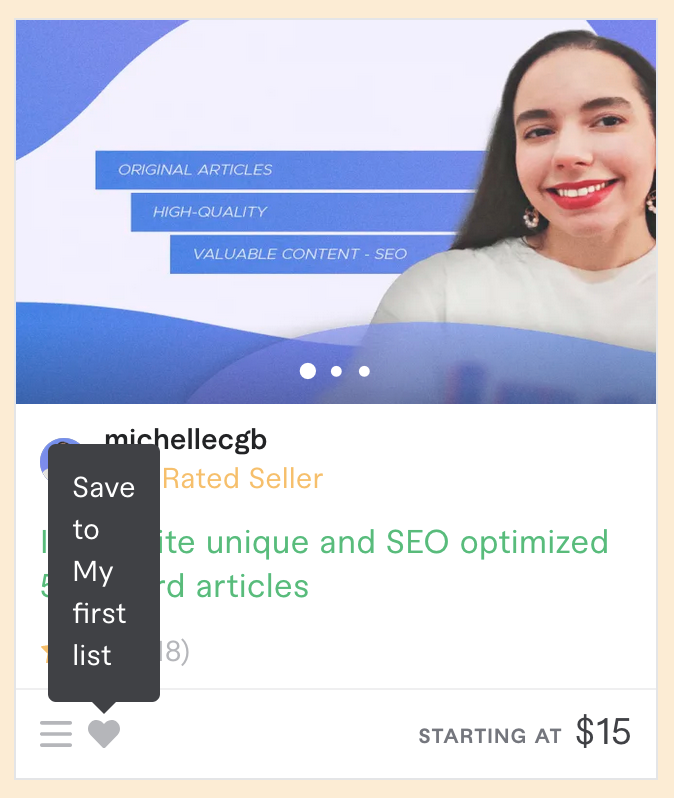 See the time heart icon? Click on it to bookmark a gig.
By clicking on the same heart icon, next to the search bar, you can see your lists. You can also create new lists to organize your potential freelancers better.
7. Read details carefully
When a freelancer meets your criteria on Fiverr, make sure you check out all their gigs and profile description. Analyze their writing style and try to get a sense of their personality. Additionally, their gig description may highlight some key points that can be a deal maker or breaker.
For instance, in one of the FAQs, they might have mentioned that they do not serve a particular niche that you want them to cover. Alternatively, they might have answered an important question somewhere in their gig – you can skip asking them that question and related questions. It won't just save you time but also make you look more professional.
Also read the reviews that they wrote for other buyers. I have found that reviews often give a deep insight into their personality.
8. Communicate effectively
When you reach out to the few freelancers who check every box, make sure you communicate effectively. Be very specific with your expectations and give them the freedom to be transparent with you.
Keep an eye out for their fit – not just from the job description perspective, but also how they vibe with you. Sure, you won't see them face-to-face without going against Fiverr's TOS, but you sure will get a feel of what they are like.
Even after you start working with someone, keep the communication lines smooth. Don't bug them till the delivery day expecting a faster delivery than what was agreed. But at the same time, make sure you check with them on the date if you don't get the delivery. Give them more time, if they had a genuine reason for delay – in plain words, be empathetic.
In my experience, most sellers are there to deliver good work, giving them space and time will forge long lasting relationships.
9. Read reviews before hiring
Fiverr reviews are an accurate indicator of a freelancer's quality. They tell you how other buyers rated the freelancer across these 3 parameters:
Seller communication level
Recommend to a friend
Service as described
Read the reviews that are rated between 3-4 stars. The top rated reviews have a chance of being fake – especially if you are working with new and level 1 sellers. Also, 1-2 star ratings indicate that the buyers who rated freelancers were probably salty about something.
10. Contact seller before placing an order
Even though Fiverr freelancers are there to sell their services, they may not always have the bandwidth to cater to your needs. Or, even if you thought that the seller has the right skills to meet your requirement, there's a slim chance that they don't.
In either case, it causes frustration for the freelancer when buyers place an order without consulting them first. It, in turn, will cause delay for you. That's why, it's ideal that you inbox the sellers before placing an order – even if they are new sellers with no current orders.
11. Do a trial run
If you have a long-term project or one that needs a lot of work, try out the sellers with a small order first. For example, if you are looking for a blog writer to deliver 4 pieces per month, don't reveal that just yet. Place an order for 1 blog post and see how it goes.
If you liked the delivery or vibe well with the seller, place a larger order.
A small order gives you a chance to bail with minimal losses – in case the freelancer is not skilled or as supportive as you thought they were.
12. Don't hesitate to hire offshore freelancers
One of the main reasons Fiverr managed to keep the minimum order value at a paltry $5 is its third-world freelancer subscriber base. Since the purchasing power parity is low in those countries, $5 goes a long way there.
This gives them an option to sell their services at super-cheap rates. But it also reflects in the quality of deliveries.
But I have worked with freelancers from those countries and got a fair deal on many occasions. Sure you need to put a bit of work in but the deliverable is usable in most instances. I have hired writers and logo designers from India, and WordPress developers from the Philippines – I was impressed by the work of both.
Having said that, I had a sea of sellers from many countries who delivered crappy services, both in terms of the final delivery and support. You need to weed out the bad ones first but the effort is worth it from an expense perspective.
13. Be consistent with your order
One of the most annoying things that buyers did was modify their order while I was working on it. They would request for a commercial real estate article while they had placed the order for a residential real estate article.
Last moment modifications lead to rework, it's akin to working on a new order altogether. As mentioned in the first point, you must do your homework before looking for freelancers. Be sure of what you want before placing the order.
14. Don't misuse unlimited revisions
Most sellers promise unlimited revisions to attract more buyers. But some buyers misuse that and continue submitting revision requests protracting the order forever. Don't be one among them.
It's not like the seller would be able to deliver a drastically enhanced service overnight so if you did not like the delivery, know that it was a wrong call in hiring that seller. Exit the transaction fast and find a better freelancer. If the delivery was pathetic even after a couple of revisions, you have an option to give the freelancer a negative rating.
15. Ask sellers for their ideas on improving the delivery
New and Level 1 sellers are still finding their footing in the Fiverr freelancing space. They are not burdened with work like seasoned sellers and might be open to a two-way discussion.
By asking them opinions on how they would improve the gig, you will give them more incentive to deliver a better product. Plus, you will know beforehand what's coming.
16. Consider time zones
It's far too easy to ignore time zones when you are working on tight deadlines. Sure you want a logo delivered in an hour but the Pakistani seller you chose is off the clock – it's 3 AM there.
For urgent deliveries and if you want constant updates, choose freelancers who are in the same timezone as yours. As discussed before, Fiverr lets you use filters that make it super-easy to find sellers based on their geographic location.
17. Verify plagiarism
There is a lot of spam on Fiverr, it's advisable to check the quality of your deliveries before approving them. One of the key checks that any deliverable must go through is a plagiarism check.
You must ensure that the product is legit, created by the seller, and not copied from anyone else.
If it's written content, you can copy-paste part of it in Google and check if other articles show up. If so, it's a clear indicator that the seller picked stuff from other websites, put it through a spinbot and claimed it as their own. If it's an image, you can do an image search on Google to check for plagiarism.
It's an important step that you should not miss – irrespective of how long you have been working with a seller.
18. Avoid giving negative reviews
Negative reviews can have a negative impact on future sales of the freelancer. It impacts how buyers like you view the seller, how well their gig ranks on Fiverr, and so much more.
Freelancers rated less than 4.3 rarely get orders. If you rate a new freelancer 3, it's almost certain that their overall ratings take such a bad hit that they would never get an order again.
Unless a freelancer has been downright abusive and unprofessional, avoid giving them a bad rating. It's worth noting that most sellers there want to succeed and they know that the way to that is treating customers well. If they weren't able to deliver the product to your liking, assume that they tried their best and the work was out of their skillset, and move on.
19. Build relationships
Hiring the right freelancers is not easy. It takes time, effort, and failed attempts in getting it right. So when you do get it right, make sure it's sustainable.
It's way too easy to forget in a remote setup that there's another person on the other side of the screen. By being nice, accommodating, and amenable, you can ensure a consistent string of deliveries from the quality sellers.
20. Tip the sellers
One of the best ways to forge relationships is tipping the sellers. If they are on Fiverr, they are trying to break through into their niche. They are already selling a discount but have to forego some amount in commissions. So if you manage to hire someone within budget, consider giving them a small tip. It goes a long way.
It, of course, is not mandatory. I tip freelancers only if they did a stellar job or were super-accommodating with my revision requests.
Conclusion
There you have it, the complete checklist to using Fiverr as a buyer. It need not be a convoluted process, Fiverr is a highly intuitive platform to help you find the right freelancers but you need to take care of the human aspect.
Questions? Put them in comments below and we will respond in a day.