How to remove spam from your website?
The primary purpose of a website is to drive relevant traffic. The more visitors you get, the more clients you convert, and the more money you make. Even if you own a blog, you want more people to click on your ads and affiliate links.
In short, website traffic = potential money.
But if your website looks sketchy, your visitors will run for the woods soon after they land on your webpage. Even search engine bots dislike suspicious websites; they whack them light-years into oblivion, never to be seen on SERPs again. We want to help you protect your website from such a fate.
In this blog post, we cover 11 mistakes that make your website look like spam and how to fix them.
1. Sketchy domain name
Your domain name is how people address your business – it has a strong association with your brand. You want to choose a domain name that is easy to remember, one that represents what you offer, one that makes you stand out from Joe's website.
From a spammer's perspective, however, the intent is to get maximum traction with minimum efforts. They are after a quick buck – they put no effort into creating quality content. Instead, they take shortcuts and adopt tactics that no longer work.
One such tactic is stuffing domain names with keywords for SEO advantage. For example, a spam home decor website might have these domain names – beautifulhomesbedroomlivingroombathroom.com or tidy-office-space-your-employees-will-love.com
These domain names are difficult to read for people and search engines alike. Sure, it targets a lot of keywords, but it's spam! It will not rank. Even if it did, people would not trust the website.
Another sketchy tactic, called typosquatting, is when spammers select a domain name very similar to a famous brand. For example, the domain name Amaezon reads similar to Amazon. Spammers use the brand name to attract unsuspecting visitors. They design their website just like the host website and steal credit card information.
Here are some examples of typosquatting: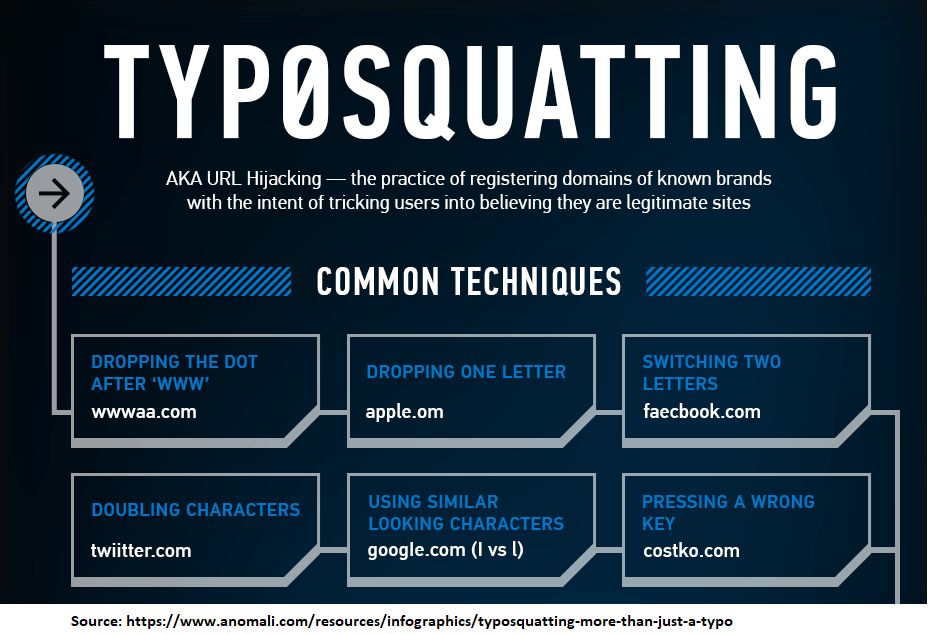 What should you do instead?
Choose a domain name that is easy to read and remember.
Keep it short – up to 15 characters.
Include no more than 1 keyword
Avoid using hyphens
Do not include the domain name of another website. For example, if a popular domain name is surfinggear.com avoid using the domain name thesurfinggear.com
2. Not getting a HTTPS in your domain
The internet is all about transmitting data from A to B. The data could be an image you send with someone, a video you watch on YouTube, and even credit card transactions.
An SSL certificate keeps user information secure. It prevents third parties from reading the data. This is important as people may lose money over an unsafe transmission of credit card details or have their private content leaked on the internet.
It works just like Morse code – it encrypts data by making it look like garbled pieces of information which can be decrypted only by the recipient.
When you get an SSL certificate for your website, your visitors can feel confident in consuming your content and making a purchase.
How?
Modern web browsers and search engines intimate visitors of an insecure website. Soon as they visit, the browser shows them this message:

An SSL certificate adds trustworthiness to your website. Without an SSL certificate, your domain name will show as http://domainname.com, instead of https://domainname.com
Most visitors will buy anything from your website if they see this message.
In addition, having an HTTP website can hurt your rankings. Search engines trust your website more if it has an SSL certificate.
Most spammers will not bother about getting an SSL certificate as it comes with a price tag. They just want a minimal website that draws in dollars.
What should you do instead?
Get an SSL certificate. It should not cost you much, and some hosting services include it in your annual subscription plan.
Once you get the certificate, the browser will put a secure lock icon next to your domain name confirming that it's secure.

3. Poor website design
Getting the right design that balances user experience with technical SEO performance is no easy task. There's always a trade-off between the two.
But spammers don't have to worry about that. They stick with the default WordPress theme. Plus, they fill their website with CSS/JS code to make it look fancy. You'll see a lot of meaningless animation on a spam website. 
When you visit a website and think, "what the hell is going on here." You probably landed on a spam website.
What to do instead?
Establish a functional website design. This need not be too tough if you use WordPress.
Research for themes that fit your business and also offer SEO benefits. You can pick a free theme but make sure it meets your needs.
Minimize styling. It is a personal choice, but too much styling makes your website look like a low-budget animation film.
Do not stick CTAs everywhere.
Organize your content into blocks and sections.
Use a header to make navigation easier.
Make sure your text from the sidebar does not overlap text on the main page.
Make your website responsive. This ensures that your website renders properly on screens of all sizes.
Customize your content for mobile. Make sure you use images of appropriate size. They should not fill up the tiny mobile phone screens till the users scroll endlessly.
4. Low-quality content
Search engines are evolving all the time to meet the search intent of the users better. They want to offer answers, solutions, and suggestions that match a user query. In short, search engines seek content that offers value.
But spammers don't care about content. They just want to grow their page count to look relevant. If you ever read their website copy or articles, you'll find mundane content that everyone knows. Plus, their content is riddled with grammatical errors, inconsistent sentences, and meaningless blobs of text littered with metaphors.
Something like this:

The copy is full of grammar inconsistencies and doesn't make sense in some places.
What to do instead?
Hire a proofreader. Or, use Grammarly to edit your content.
In addition, make sure you –
Cover topics in detail. You should aim to write holistic content, your readers should get every answer they are looking for.
Split your content into Header sections. This makes an easy read.
Reduce fluff. Your text must be to the point and direct.
Write content that search engines will want to rank. Remember, you write for your audience, while you optimize for search engines.
Embolden relevant text so that people jump out from a boring section.
Put hours and loads of effort into every content piece.
5. Littering your web pages with Irrelevant Ads
Ad revenue is an important source of revenue for blogs. But it's easy to go overboard with them, making your website look like spam.
Spammers don't know that. They pick the highest-paying ad categories that have nothing to do with the website content. For example, you will see Ads for eCommerce clothing items in an article about mobile accessories.
Plus, Ads on spam websites overlap the main text. They may just spill out of sidebars or cover the whole screen as a pop-up. Also, spammers put so many Ads that it's hard to discern the content! There's an ad after every paragraph. It makes for a horrible user experience.
What to do instead?
Experiment with your Ads. Track the points in the page that generates more ad clicks. Set up a heatmap to see how far people scroll, insert a limited number of Ads up to the point where people scroll.
6. Publishing too many review posts
Review posts are a popular way to sell affiliate products and add to revenue. In these posts, bloggers recommend products for their audience. If visitors click on their affiliate link and purchase, bloggers get a share of the sale.
It's understandable why bloggers write review posts. They should earn revenue for all the effort they put in, but some take it too far. They essentially write only review posts! This is bad because these posts barely add any real value to readers. Often, bloggers do not use the products themselves but promote them to boost their revenue.
Essentially, they collate Amazon reviews, rephrase them to form an article, and stick a bunch of affiliate links. Many Amazon affiliate websites end up looking like spam because they are so heavy on review posts.
Review posts look like spam because everything on the website is yelling – buy buy buy. Make me more money you fools. 
What to do instead?
Write review posts sparingly. Focus more on adding value to readers before you direct them to your money page. Have more How-to articles that answer specific questions. Keep a 3:1 ratio – for every 3 value articles, write 1 money article.
7. Stuffing Keywords
It's surprising how so many people still stuff keywords despite knowing that it's malpractice.
About a decade back, keyword stuffing was a common practice. The more mentions of the keyword in your text, the better the chance of getting on the first page of search engines.
But today, search engines have learned so much about user behavior that this tactic is not viable. In fact, it's a black hat SEO technique.
Spammers often read a bit about SEO and create a website because, well, money. They have no in-depth knowledge about search engine algorithms, so they keep pumping out spam websites.
There is no golden ratio of keywords to word count, but your content should not read this bad:

You can't find anything other than keywords in this blog post. Even if you did, it will make no sense and add no value to readers.
What to do instead?
Keywords are important. Once you find quality keywords, use them only when needed. Make them fit in contextually.
Of course, you can write a short paragraph to set up the context before you introduce the keyword, but don't make it too obvious, like in the example above.
8. Ignoring website health
A healthy website is functional, fast, easy to crawl, and optimized for SEO. They have fewer errors and thus a better chance of ranking on the first page of search results.
Spam websites are rarely healthy. They are drenched in the stream of broken links, are difficult to crawl, and are barely optimized for page speed.
Poor website health makes for a poor user experience. We all have been in a situation where we clicked on a link, all excited about what it offers, only to learn that it's broken.
What to do instead?
Make sure you do weekly site audits. They uncover all the critical and non-critical errors on your website. There are several free audit tools available in the market like SEMRush, Ahrefs, Ubersuggest, etc.
9. Slow web pages
We live in an age of fast internet. With 4G becoming a norm, your clients are spoilt with speed. They don't want to wait for anything, much less for your page to load.
A fast website is now a Google ranking parameter. You won't rank with slow pages.
But with Ads and excess code to support animation, your web pages take up more disk space. This causes more data to be transferred, thus a longer time to load.
Spammers don't care about page speed because they don't care about their website. They put no effort into improving user experience till they don't see direct monetary benefit from it.
What to do instead?
You must optimize your website for page speed. This includes reducing your image size, removing dispensable code, migrating to another web host if needed, using AMP for your mobile pages, etc.
We recently completed a campaign that resulted in an increase of 483% in our page load speed. Essentially, we went from 7 seconds to 1.2 seconds!
This, combined with installing an SSL certificate, boosted our rankings.
10. Building and keeping bad backlinks
It's a known fact that backlinks are essential to SEO. But in reality, quality backlinks are essential to SEO, and very few people seem to acknowledge that fact.
Link building is not easy for new websites. Desperate to get them, people settle with poor-quality backlinks. Many get their backlinks from directories and forums, which is bad, but spammers take it a step forward. They get backlinks from super-sketchy websites.
Bad backlinks cause search engines to trust you less. Too many of them will destroy your rankings and wipe out organic traffic.
What to do instead?
Identify and remove bad backlinks at the earliest. You can do it manually or remove bad backlinks faster using Semrush.
11. Allowing User Generated Spam
User-generated spam (UGS) is low-quality content created by visitors to your website. This includes comments on your blog posts that link back to shady websites.
Most spammers do not care about what's going on their website. They often leave auto-approve on, letting spammy comments flow in on their blog.
Spam websites have tons of comments on blog posts, each linked to an unrelated and often spam website.
What to do instead?
Turn off Auto-Approval of comments, and use the Akismet plugin on your WordPress website. This plugin filters out spam comments and keeps legit comments ready for your approval.
Conclusion
In this blog post, we covered 11 mistakes that make your website look like spam. We also talked about what you can do to remove spam from your website.
Which tip resonates the most with you?