Blogging requires patience. It takes months of consistent writing before you see considerable traffic on your website. And it's not just about getting people to read your content but also getting search engines to rank it.
Writing a great first blog post will give you the confidence and initial momentum that will help you publish consistently for months to come.
Here are 12 tips to write a good first blog post:
Determine your Target Audience
The people who you want to read your content are your target audience.
For example, if your niche is dirt bikes, you want people interested in adventure sports, outdoor activities, motorcycles, etc. to read your blog post because your content is relevant to them.
Make sure the post you intend to write is relevant to your audience. If you write an article on How to fix punctured dirt bike tires, don't write a section on how to fix a tire. That would attract traffic that is trying to fix the tires of many different vehicles.
Even if they find your content, they will leave your post quickly, as it is not relevant to them. But you don't want your traffic to leave your website, you want it to stick around and visit your money pages.
Pick a Topic that has Potential to Rank
Search engine rankings are probably the last thing on the mind of beginner bloggers. Most of them just dole out a blog post, without considering competition on the Search Engine Results Page (SERP).
They write on topics that their established competitors have covered in depth, essentially leaving them with no opportunity to generate organic traffic.
While picking the topic of your first blog post, do topic research on Google. Google has a lot of content that it serves based on the search queries. But it does not have results for every query, and that's where the opportunity lies for you.
When you provide content that Google does not have, you have better chances of ranking for it.
Do Online Research
Once you pick the topic for your first blog post, aim to cover it thoroughly. Answer a question so well that your readers need not visit another post to get answers. This requires you to do online research to find questions people ask.
Include in your blog post, every relevant question you find. If an answer to a question requires a comprehensive answer, convert that into a subtopic. But if it requires a few lines of a paragraph, put that into the FAQ section.
An informative, comprehensive article ranks well on search engines too, as it answers the main question and related questions and signals high value.
Align with Search Intent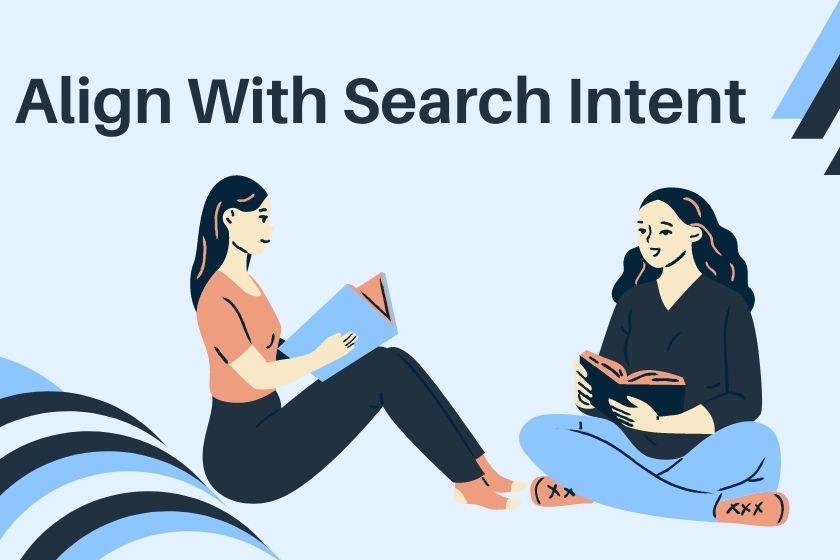 The search industry exists because of search intent. People use search engines to find solutions to their problems or gather more knowledge about a topic of interest.
Write all your content in alignment with search intent. Always. Here's an example of how you can do that: Suppose you own a house plants boutique. The keyword – low maintenance houseplants will have a different search intent than – houseplants that need less water.
The first one is a much broader topic that deserves a longer blog post. It can cover insecticide, sunlight intensity, harvest technique, etc. But the second keyword is more specific and can be covered in a shorter blog post.
Even if two keywords sound similar, their search intent can be way different. But if you do a good job at writing for search intent, you increase your chances of ranking higher.
It is slightly difficult to get the search intent right as a beginner, but it is something you must keep in mind with each sentence you write.
Write a Catchy Title
The first interaction of your future readers with your blog is through your listing on search engines or posts on social media. You want this first impression to be so powerful that the viewers click on the link to your content.
Probably the most important step to writing a good first blog post is getting the title right. You want to write a one liner that tells the viewer exactly what your content offers while wrapping the keywords in an attractive package.
We are not asking you to write clickbait titles that get a bad rep. We want you to state exactly what you offer while generating curiosity in the viewer's mind. You're leaving money on the table if you use vanilla titles – they barely get any clicks.
One way to write catchy titles is using the coschedule headline analyzer tool. Try out the free version to learn how you can add power words, emotion words, and uncommon words in your title to make it click-worthy.
Write Concisely
Yes, you want to pack your blog posts with information. Yes, long-form content is on the right. But, no, you don't add fluff.
When you write your first blog post, don't target a word count. Based on the breadth of a topic, you will have an idea of how long the post will be, but don't stress on meeting it.
When you stray too far from your primary topic, search engines label your post as thin content. For example, if you are writing on low maintenance houseplants, don't talk about yard plants. Stay on topic.
If you want to write more, find more relevant questions to answer. And when you are done with the first draft, be brutal at stripping off all the extra weight. First time bloggers can chip off 20-50% of their content without shaking the foundation of their content.
Use White Space Effectively
People will not read every word of your blog post. They will skim through the text, stop at snippets they find relevant, and read the first few lines to see if it answers their question, and read more if it does.
Make your blog post skimmable by using white space – All the empty space towards the end of a line and between paragraphs.
By writing shorter paragraphs, you give your readers a smaller area to focus on, in their visual space. This helps them focus better – no one wants to read chunks of text, no matter how helpful they are.
Use Bold Text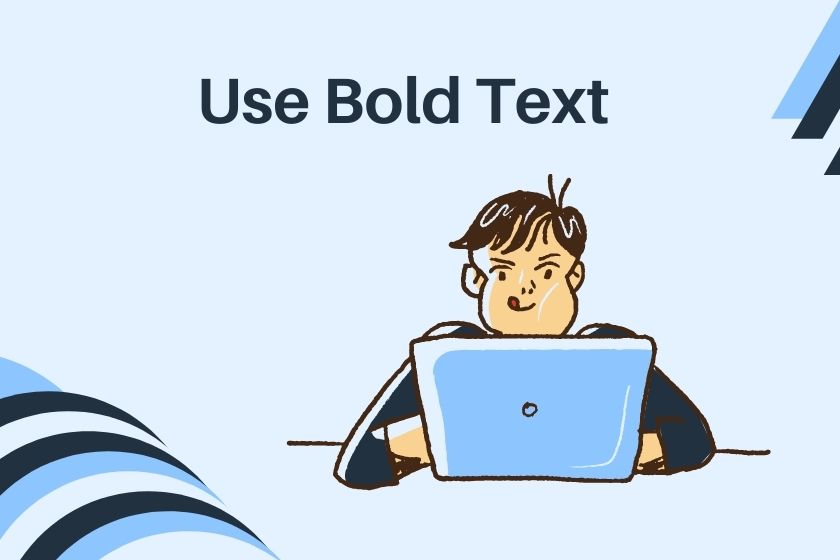 Emboldening a phrase of text elevates it from the rest of the paragraph. It gives it more visibility, making it easy to skim through the blog.
As established earlier, most people skim through your blog and stop at what they find interesting. The bold text gives them visual milestones – a guideline to exit a boring section of text. This way, you keep them on your post for longer.
Even search engine bots give more emphasis to bold text. You can use that to set-up and win featured snippets.
Segment your Blog Post into Sub-headers
A great way to add more white space is by using sub-headers in your posts. But that's not their only purpose.
Sub-headers help you segment your blog posts into sections that expand into topics related to your primary keyword. They help you progress the narrative and provide readers a direct path to the segment that they are interested in.
They help you target related keywords giving you more avenues to rank on Google and generate more organic traffic.
Include Images
If you want to write a great first blog post, you can not ignore images. They help you give more vibrancy to your content, a visual stimulus that gently nudges visitors to keep reading.
You can get stock images from unsplash and pexels, among other websites. Or you can create them on Canva.
It is a common notion that Google prefers images that you create over those you get from other websites. It takes time to create images but it is worth the effort, plus you add a new skill.
Also, do not forget to add keywords in Alt-text of images, which will get you more visibility on the images tab of Google search. Most beginner bloggers skip doing that.
But adding images is not just about creating them, you have to optimize them for page speed.
Proofread your Content
Once you have your first draft ready, subject it to at least one round of brutal editing. Don't spend too much time correcting your grammar manually. Let Grammarly do that for you. Even the free version does a good job at it.
Instead, spend more time checking the tone and flow of your content. See if it sounds natural; if sentences segue into each other, and the content drives a narrative.
The best way to do that is to read it aloud, this will unravel any hidden flow or consistency issues that you might otherwise miss. An alternative is to use the Read Aloud Chrome Extension.
Optimize for Mobile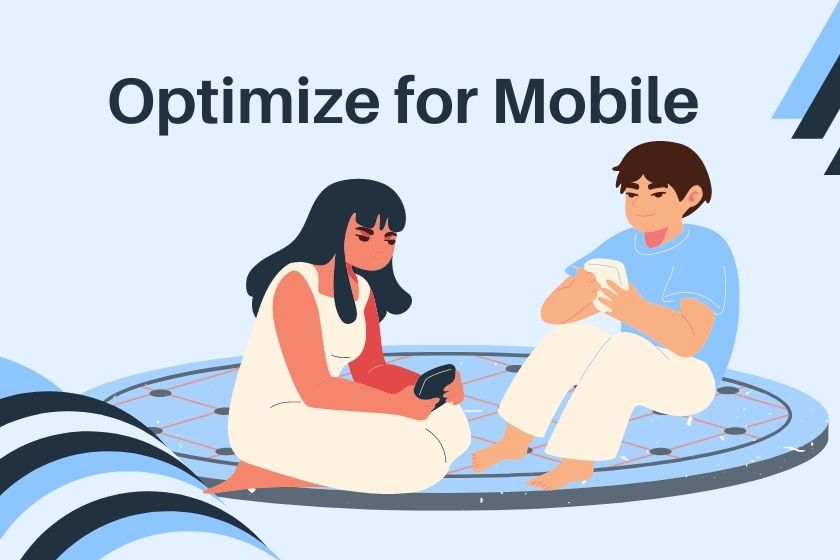 Your readers from tiny screen spaces should not have problems reading your content. Make sure that your website is optimized for mobile.
Your website should be responsive and fast. Your images should take smaller space on the mobile screen to free up some for the text. Also, your font should be big enough to float out from the screen.
Many new bloggers ignore mobile optimization. Make sure you are mindful of how every element of your blog post will look on mobile phones. Remember, you can always eliminate some elements from the mobile/ tablet version.
FAQ
How long should my first blog post be?
Aim to write 1300-1500 words, this gives you enough bandwidth to answer one specific question in your blog post thoroughly. But it is not about adding to the word count, add value with each word.
What should my first blog post be about?
Write on topics that your audience is searching on Google but have not been covered by your competitors. Craft the most comprehensive piece answering one main question while addressing more related keywords.
How to start off your first blog post?
Stating a fact or asking a question is a powerful way to begin. This piques the interest of your readers. Also, write phrases common to the reader's industry, state common pain points, and tell them that you have a solution. Also, use the primary keyword in the introduction of your first blog post to tell readers what the content is about.
How to end your first blog post?
In the conclusion, summarize the blog post telling your readers what was covered. Invite them to comment or reach out to you directly via social media channels.
Conclusion
We discussed in detail 12 powerful tips on how to write a good first blog post. Hope you are ready to start writing your content or editing it as per our guidelines.
We acknowledge that the requirements of each industry are different and you might need help to customize the tips to your niche. And we are here to help you with that. Please feel free to type in your question in the comment section and be assured of an answer.