Generating backlinks is the most taxing activity of SEO. There are many methods to build backlinks, but few are as popular as the broken link building method. SEO stalwarts endorse it, and everyone seems to agree with them. It sure is a sly method of getting quality backlinks for established websites but, does the broken link building method work for new websites?
Yes, the broken link building method works for new websites, provided they approach the right webmasters, offer content that aligns with the broken links, and follow up religiously.
Not just new websites, this technique benefits low DA websites too. But the success rate is low compared to popular websites.
How do we know?
Well, we conducted an experiment on this method for a month and had mixed results. In this blog, we disclose our findings and share some resourceful tips that will save you a lot of time, effort, and disappointment. Let's jump in head-first.
Table of Contents
Tip #1: Do not copy the template suggested by popular websites
Tip #2: Save time with a in-mail template
Tip #3: Get direct with HTML Anchor text
Tip #4: Be prepared for a low response rate
Tip #5: Expect website owners to charge $
Tip #6: Don't run after top sites
Tip #7: Approach with different content types
Tip #1: Do not copy the template suggested by popular websites
We started using the basic template suggested by one of the biggest influencers in Marketing.
---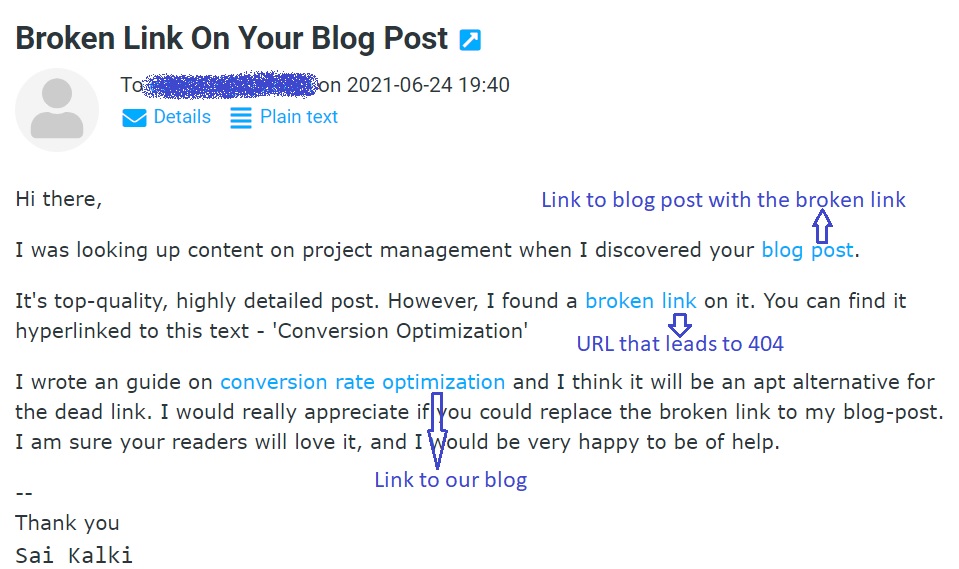 ---
This template did not get us any response! It would definitely work for big shots who already have a brand name and a high-DA website, but as new website owners, we do not have the same clout.

We need to be more persuasive and much less demanding while asking for a backlink.

More on that later, now, lets see which broken link-building method email template works for new websites?
We got over all the shortcomings of the template shared by popular websites and came up with a version that did get us some backlinks. In the subsequent lines, we talk about the elements of a successful broken link-building email template for new websites. Check it out.
---

---
Structure of a successful broken link method email template for new sites.
In this segment, we break down the template shown in the screenshot above. The below pointers highlight what we added to the earlier template that increased our success rate.
Give a subtle compliment.
We added a one-liner stating what we liked about their blog. From the website owner's perspective, each post takes hours of time to create, a genuine compliment shows that you took time to read their article. Every blogger appreciates that.
Show them where the broken link sits with a screenshot.
Earlier, we used 'text-highlight' hyperlink to indicate the location of broken links.
For example, if you click on this link, you land on a phrase. To do that, append the below code to the URL.
websiteurl.com/#:~:text=Your text
However, we realized later that it works only on Google Chrome! It was frustrating to know that our efforts went in vain because of this tiny mistake.
So, it is safer to use a screenshot to show exactly where the link is placed.
You may think just mentioning the phrase in text format would suffice, but often the same text may occur multiple times on the webpage. The on-page search will show multiple results. Aim to reduce the effort of the webmasters, make it easy for them to link to you.
Add the complete URL to your blog post, no hyperlinks.
When the webmasters see the complete URL of your blog, they get a sense of what to expect from it. This way, they need not actually go to the blog to check relevance to the text around the broken link.
Don't explicitly ask for the backlink.
Broken link building method works for new websites because they do the job of webmasters for them. You are essentially auditing their site and replacing broken links!
Still, since you lack the credibility of popular sites, being subtle about backlinks may actually boost your chances of getting one. Give them a hint and let them pick the cues.
Tip #2: Save time with an in-mail template
Most mail service providers let you create templates. This template can be directly rendered onto every new mail you send; the details can then be altered to personalize each mail.
In case your vendor doesn't provide this feature, you can link your mailbox to Gmail. You can set up templates on Gmail easily.
Here's the mail body in text format, just copy-paste in your template window and replace the bolded text with your inputs.
---
Hi [First Name or there],
I was looking up some content on email marketing when I discovered your excellent blogpost -> [Hyperlink to their blog]
I especially enjoyed the section around [Sub-Topic you liked.]
Anyway, I couldn't help but notice that one of the links is broken. The hyperlink, highlighted in the image below, leads to an error page.
[Insert screenshot indicating the location of broken link]
Hope this information helps.
I published a blog on [Topic of your blog post]
[Insert Complete URL of your Blog]
It might make a nice addition to your article. 🙂
Either way, thank you for the quality content.
[Signature]
---
Tip #3: Get direct with HTML Anchor text
Often, you will find a broken link in a particular segment of the blog post. For instance, suppose you find a broken link on a post titled – Best dog breeds for apartment life – under the Pomeranian section. You need to share the link to the Pomeranian section of your own blog.
A generic link will force the webmasters to scroll your blog to find the Pomeranian section. A lot of them won't put that effort. So, add an HTML anchor text and share a URL directly to the relevant segment.
Tip #4: Be prepared for a low response rate
You can get everything right but still not hear back from the website owners. You might have reached the wrong contact, or the owners are least interested in fixing their website, there's no way to know the exact reason.
Don't beat yourself over it. It can get disheartening, like you're shouting into the void.
But make sure you send exactly 1 reminder mailer. It's possible that they saw your mail while they were in the middle of something, or they plain forgot to respond. You put in the effort, it does warrant the follow-up mail.
Out of the 68 mails we sent, we got responses from 9 domains, excluding the automated mails. That's roughly 13.25% response rate. It may sound a good number but we got only 2 backlinks from the whole effort! In the next sections we will talk about why all the responses didn't convert to a backlink.
Tip #5: Expect website owners to charge $
Out of the 9 responses we got, 6 asked us to pay for link insertion.
At first, it sounded ridiculous! Why would they ask us to pay for the help we provided? Afterall, we are helping them fix their website.
But, it is what it is. We took it as compensation for our lack of clout. Anyway, this is what the pay us first mailers look like.
---

---
Tip #6: Don't run after top sites
Since we are in the SEO industry, we started finding broken links on websites that taught us this method. We reached out to them offering an alternative to their broken links.
Next day, though we did not get a response, we found the dead-links to be replaced by URLs from other High DA websites.
As per our experience, Top performing websites are very choosy who they link out to. Possibly, their SEO score would suffer if they link out to low DA websites.
So, instead of chasing 90+ DA websites, reach out to 30-60 DA websites. You have a higher probability of getting a backlink from them. 2-3 backlinks from the mid-DA websites is as good as 1 backlink from a high DA website.
Tip #7: Create different types of content
To be successful with the broken link building method, you might have to submit content to many resource pages.
Some of these pages accept only a specific type of content. For instance, we once found a repository of eBooks for SEO Guides. We did not have an eBook then but we quickly took out content and refurbished it into an eBook. And sure enough, we did get a backlink!
Final Words
Most of the above tips are a result of a month-long experiment.
Here's a summary of the numbers:
Emails sent: 68
Responses: 9
Backlinks converted: 2
Response Rate: 13.25%
Conversion Rate: 3%
And to end this blog on a high, here's the screenshot of a conversion.