Many blogs talk about the importance of internal linking. In this guide, we focus mainly on the right approach to internal link building.
You will find some actionable steps towards internal linking minus the fluff. You will also learn about two approaches to internal linking and how to find internal linking possibilities.
Do check out the FAQ section at the end of this post. There you will find answers to common questions related to the approach.
The purpose of internal linking
Every blog has a set of pages that do not drive much traffic. They do not generate much Ad revenue or affiliate revenue.
But some pages are beaming with activity; they drive crazy engagement. We will call them hero pages. These pages should get more traffic as they result in more revenue.
The purpose of internal linking is to invite visitors to high-value pages by offering a relevant route starting from low-value pages. This process benefits the readers as they can access quality information; while you get an influx of high engagement web traffic. It is a win-win situation for both.
Hop on to Google Analytics and identify the posts that get the majority of the traffic. Suppose you have 50 articles, and 10 of them drive the most traffic. You make those 10 articles your hero pages and build a structure that diverts all your traffic to those pages.
Internal linking builds page rank for your hero pages. Page Rank is an indicator of how popular a page is, the more internal links pointing to it, the higher is its PR. It signals search engines which pages matter the most on your website.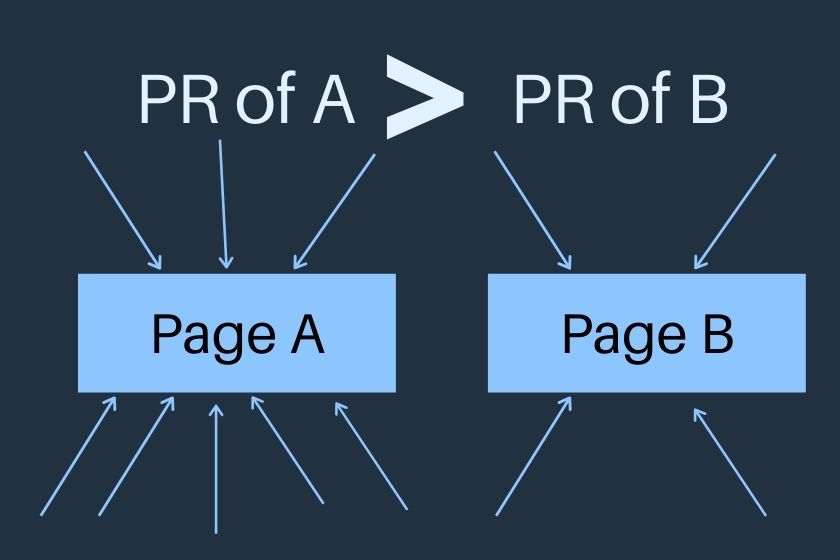 Internal linking helps you divert traffic from low PR posts to high PR posts, just like the tributaries of a river system.
Alright, now that you know the purpose of internal linking, let's figure out…
How do you find internal linking opportunities?
A new website with few content pieces can easily find internal linking opportunities using Google Search. Taking an example from this website, suppose we write a new article on the topic of guest posting.
The first step is to do a site search on Google. Head over to Google and type – site:https://sitename.com "keyword"
We have 7 results for the keyword guest post on our website.
Next, we can put these 7 topics in a list, and decide which ones should link out to the new blog.
As your website grows to 100 or 1000 blogs, you will need a tool to create this list for you. But for now, Google search will help you with a quick search and place campaign.
Alright, now that we know how to find internal linking possibilities, let's see the two common approaches to internal linking.
Silo Approach to Internal Linking
Your website is a sliver of the world wide web. Within your website, you have multiple sub-topics, all of which align with your main topic.
For instance, if you own a furniture blog, you can categorize your content based on the furniture type, like beds, tables, closets, etc. Each such category has a space of its own on your website, its own silo.
What is a content silo?
A content silo is a collection of all the related pieces of content that can function as a separate web domain. Even if separated from the main website, it can operate on its own.
The silo approach to internal linking keeps the content silos separate, just like a silo of grains. You don't mix two grain types. Similarly, you don't link content from one silo to another.
This structure is similar to a large organization. There is a CEO, to whom the other CXOs report. A CMO's organization will not directly report to a CFO's organization.
Topical Approach to Internal Linking
But CMO and CFOs organizations must interact to implement company-level plans. And that is where the topical approach to link building surfaces.
This approach to link building focuses on adding internal links based on relevancy. It doesn't matter which silo another blog falls in, if it can add value to another blog, it will get an internal link.
Which Internal Linking Approach Works for a New Website?
A new website or a small website with fewer than 50 blog posts will benefit from the topical approach. Silo approach may not work because you do not have enough content yet.
Your blog is similar to a start-up, you have a flat hierarchy with a lot of functions overlapping each other. In that case, it's best you find places where an internal link is relevant and hyperlink a relevant anchor text with it.
Conclusion
As a new website, your approach needs to be different from big blogs with thousands of posts. We covered some steps that will help you find internal linking possibilities quickly and choose the right approach.
Do check out the FAQ section below, it might answer a few questions, but if you have more, please put it in the comments section below.
FAQ
How many articles do you need for internal linking?
Technically, you need just two articles for internal linking. But it starts getting beneficial after you have at least 50 posts. If you take the silo approach, try to have at least 20 articles in each silo before you start with the internal linking process.
Bear in mind, there's no harm in interlinking content before you reach those numbers. If needed, you can replace older links later when you create fresh, more useful content.
How many internal links should a page have?
There is no specific number to it. You can add as many relevant internal links as you need. Focus on the word 'relevant.' You may end up adding too many internal links if you do not pick the apt anchor text. Make sure the landing page delivers what the anchor text promises.
Should internal links be nofollow?
Never nofollow internal links until you are directing crawlers to a login page. Internal links help crawlers navigate through your pages and signal which two pages are contextually correlated. When you nofollow internal links, crawlers will ignore them, defeating the purpose.
Should internal links open in a new tab or the same tab?
We talked about Page Rank earlier in this post. Pages with higher PR drive more traffic and generate more clicks on your Ads and Affiliate links. So, if you are linking from a low Page Rank (PR) post to a high PR, you can open it in the same tab.
However, if you link out from a high PR page to low PR, make sure it opens in a new tab.
If both the pages have the same PR, let the post open in a new tab. Once the visitor finishes with the first article, they will have another one already open. This way, you keep the visitor for longer.
Should you add internal links to the homepage?
Avoid adding internal links to your homepage. Even though it had high PR, the homepage rarely has specific and relevant information, unlike pillar posts. If visitors want to access the homepage page, they can do so from the navigation menu.