Marketing for Music Studio
As a music studio owner, it's quintessential to have a website. Many realize this and create a website, few see it as the lead generating engine that it really is. It's time to start marketing for music studio. If you have neglected your studio website, you have missed out on a lot many phone calls.
While looking for a music studio, people pick up their phone and go straight to Google and type, music studio near me. You might be in the same lane as your potential client but Google won't show you because it doesn't like you.
It prefers to show your competitor who is miles away.
Lets change that now.
In this post, we deep-dive into the factors that Google uses to evaluate your music studio. These need to be a part of your marketing efforts. The factors include your –
We tend to forget that Google, no matter how client friendly, is a business. In fact, it stays on the top by being client friendly. It must ensure that when their client searches something, they find only relevant and top quality content.
Thus, your website needs to meet Google's standards for it to show it to anyone who is searching for music studios.
A few aspects that you need to get right are –
Using the right keywords
Do you use the same language as your clients? Google needs to ensure that you do. Thus, you need to figure out what your potential clients are typing into Google search bar to find your business.
You need to use that keyword on your website for Google to match the search query to your website and show you in search results.
It's not a straight-forward process as most of your competitors are using the common keywords. You need to figure out keywords that are relevant but not common. However, once you get it right, you will find yourself ranking higher up than before for the keywords you put into your website. This is a key step in marketing for music studio.
Quick load speed
Every additional 0.5s it takes to load your site drastically increases the % of visitors that will leave your site.
Attention span of anyone searching anything online is quite small. You need to have a lightening fast website, especially when accessed by mobile phone.
There are many reasons why your website could be slow. You might need to have small sized images (of top quality), optimized JS and CSS scripts, AMP set-up for mobile and many other factors right to reach your website speed goals.
That image of your microphone on your services page might be slowing it down.
Easy navigation
When Google knows about your website's existence, it sends it's agents, called crawlers to see what's your studio about. The crawlers are highly intelligent bots who figure out what your website is all about, only if you make it easy for them to find all the content easily.
The crawlers mimic the actual users. They complain it to Google if they find navigation to be difficult and Google punishes you with a low ranking.
You need to make it super-easy for the crawlers to crawl your website. You need to submit a sitemap of your website to Google to make crawling easy.
When anyone searches for your music studio, Google displays a search results page (SERP). It has a variety of items – Webpages, Images and Ads. However, when the search is for a specific location, Google shows a section called Map Pack.
For the localized keyword – music studio in london – below is the image of Map Pack.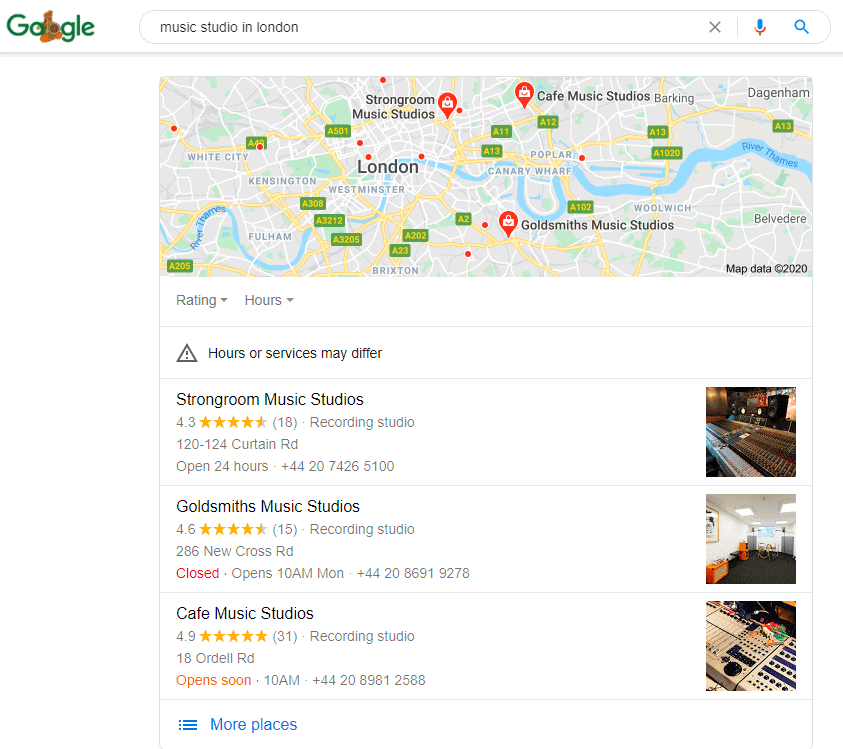 Strongroom Music Studios has done a tremendous job of showing on top of the Map Pack. They have a spot reserved on the first page of Google!
In addition, when someone clicks on their listing, they can see their services, ratings, open timings, phone number and much more. The choice becomes obvious after that. Are you there in the top 3 of map pack?
If not, you need to setup or optimize your Google My Business listing properly. You are a business that relies on clients who are not too far away, GMB setup is an important step in marketing for music studio.
Suppose you are looking for new action movie suggestions. Who's suggestion would you rather take? Someone who you know watches action movies or someone who prefers romantic movies?
It's not all the different with Google. It trusts your website more when another website that Google trusts, vouches for you.
Google assigns a trust score to every website that it takes notice of. If you are recommended by a website that Google trusts, you join the inner circle of Google and you are rewarded with higher Google ranking and more relevant traffic.
A backlink is that recommendation. You need to have quality backlinks from websites that Google trusts. Marketing for music studio is incomplete without backlinks.
A music studios audience are usually found within 5 miles of it's radius, unless you're connecting offline. However, music is a very personal art form that demands proximity of it's aficionados.
To further make sure that Google knows that you're business is located where you claim it to be, you need to generate citations as per Name, Address, Phone number (NAP) format.
Again, Google needs those details from trusted website. The more relevant and in-format citations you have, more the ranking boosts.