By optimize social media to improve SEO of your website, you unlock a new source of traffic that is highly relevant to your content.
As Matt Cutts, the former head of the Google webspam team, says about impact of Social Media on SEO, in this video:
"There is a correlation, not causation"

Matts Cutts
Quality content gets traction irrespective of the channel.
In the same video, he cautiously admits that social signals are not a ranking factor.
This implies they do impact SEO but not the way, say, backlinks do. So,
How does Social Media impact SEO?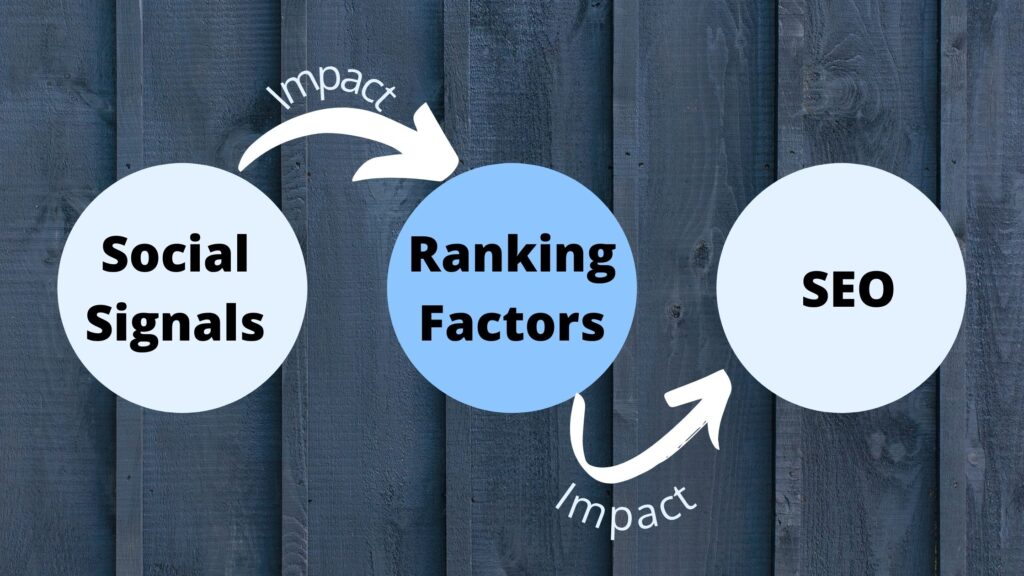 Social media influences the below-ranking factors that affect SEO:
Relevant Traffic and Engagement
Google search algorithm is coded to serve high-quality content to the searcher.
When you have it, people throng your website and spend considerable time there. They click through multiple web pages. This signals Google that your website meets the quality standards, resulting in a higher rank.
This makes website traffic a crucial ranking factor. And social media can help you get a lot of it.
Social media users are voracious consumers of content. If your enticing post can address their pain points or educate them on a topic of their interest, you get quality traction.
Traction leads to website visits; your visitors will stick around and explore if your content is captivating. They may download an asset or subscribe to your newsletter. These action items count as engagement that boosts SEO.
High Quality Backlinks
You get nofollow backlinks from Social Media, but they can sprout dofollow backlinks. When users find value in your content, they may link it to theirs, generating backlinks.
Further, they may share your post with their network, expanding the reach. This cascade effect generates multiple dofollow backlinks that boost your domain authority.
Rank for High Competition Keywords
When your social posts garner traction, your profile gets new visitors. They start associating your service industry with your business name. This puts you on the top-of-mind awareness status, which means when someone thinks of a business, they think of your brand.
Suppose you sell service X, and your brand name is ABC. Once you get traction, people start searching Google for X + ABC or some combination of these two phrases.
This signals Google that you are an authority website in the service X industry. You start ranking for high competition keywords related to service X without having your brand name appended next to it. How sweet is that!
How to Improve SEO with Social Media?
You can improve SEO with Social Media by publishing top quality content that attracts clicks to your website. This drives high quality website traffic resulting in high audience engagement in the form of increased average time spent on page, number of sessions per visit, and number of clicks on internal links. An improvement in these metrics signals search engines of the value you offer and boost your rankings.
Let's delve deeper into this.
Crown Your King: Content Marketing
Let us roll back to the section on the correlation between social media and SEO. Can you identify the link between the two? What caused that correlation? The answer is:
Top Quality Content

Content worth consuming gets traction, be it from Social Media or Google.
For example, this blog post gets thousands of backlinks and social shares because it is the biggest and best repository of Google ranking factors.
This is the quality of content everyone wants to consume.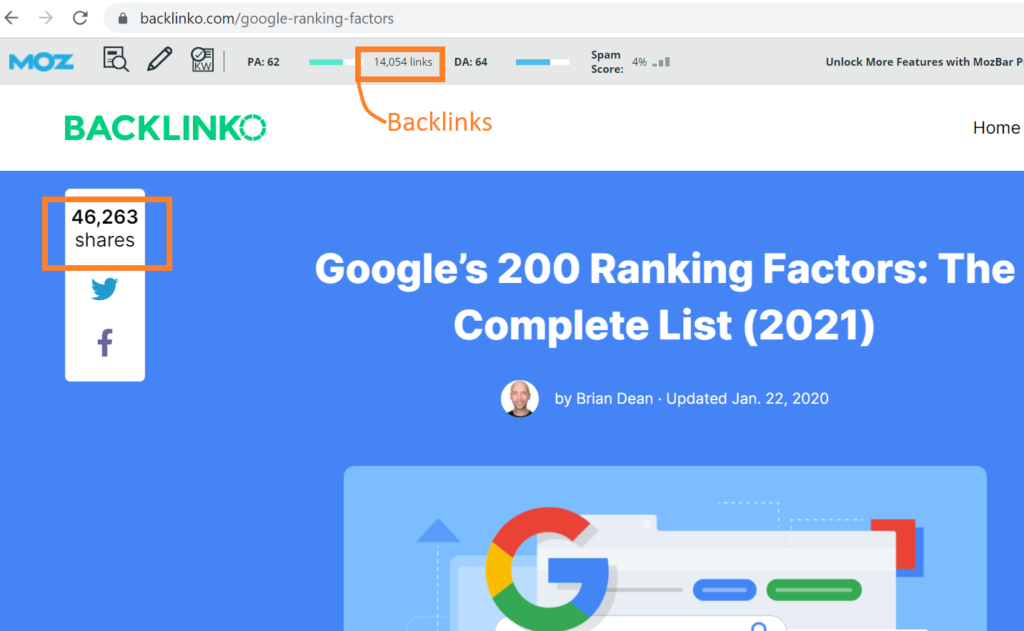 And you need to pump some out regularly. The means to that is an editorial calendar and the discipline to stick to it.
Play Smart With Keywords and Hashtags
Keyword research spills beyond SEO; you need to optimize keywords for social media too. Some are evergreen, some have a momentary spike. Take advantage of both.
Track what is trending, then align your content with it. This requires meticulous planning. For instance, you may start banking on the Halloween feel, starting Oct 1, and flirt with the subject throughout the month.
Leverage Google Trends to frame a clear timeline for your promotions. The keyword, Halloween, trends in the week of Oct 27 – Nov 3. But it starts picking up even earlier, around mid-August. You can map your social campaign to these dates to yield the best results.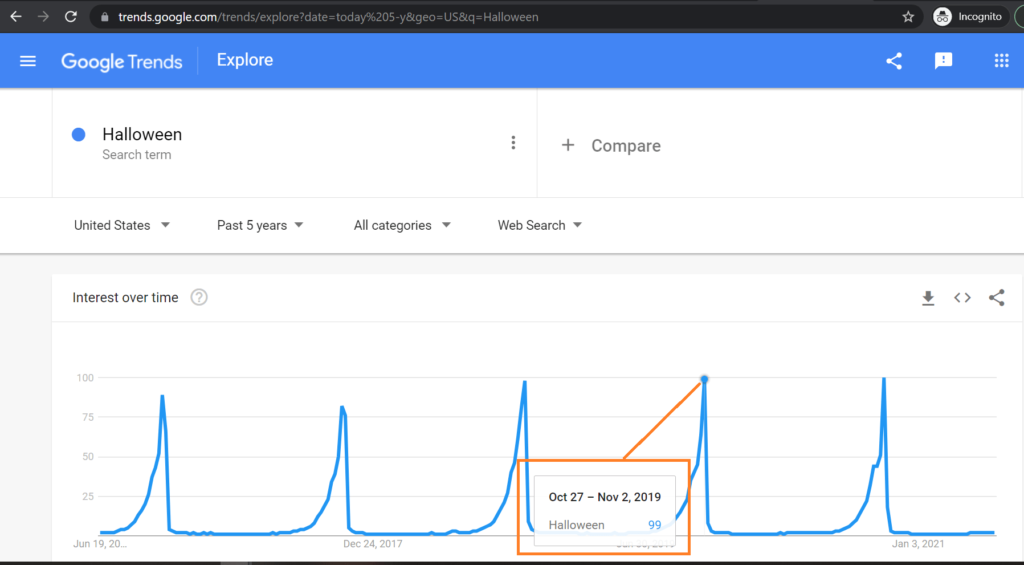 Hashtags are equally important. Use them not just to drive relevant traffic but also to collect data. You can filter reach and engagement based on Hashtags. This spells out what works and what needs optimization.
Consider using three hashtags in your posts: one evergreen hashtag, one trending hashtag, and one unique hashtag. The first two generate traffic, the last one will help you track metrics.
The goal is to attract relevant social media traffic. This drives higher engagement, better reach, and quality referral traffic to your website.
Figure Out the Right Time to Post
Just like Google, Social Media platforms thrive on the latest content. Most recent content gets the lion's share of traffic, likes, shares, and backlinks.
If you post about a hot topic on a time slot of high traffic, you will ride on the wave. Else you fall flat.
Experiment to discover when your audience is active and buzzing. Publish at different hours of the day, and measure what time slot generates the most traction. You will find the sweet slot within a week. Stick to it.
Network to Build a Network
Think of Social Media as a place to form an online community. You have your gates open for the like-minded to get together, communicate, exchange ideas and bring more like-minded people in.
The more buzz your community creates, the more social signals it generates. It serves better than a gigantic community of crickets. One way to get buzzing is to have big bees on your side: Influencers have a large audience base; they can send a swarm of quality traffic to your hive.
Another way is to interact with your future fans first. Take time to build relationships, comment on their posts, share, and create buzz around their content. Give them the impetus to visit your profile, to follow you back. That is how you build a network that generates social signals, traffic, and backlinks.
Conclusion
All great marketing starts with great content.
The basic tenet of Inbound Marketing is to garner quality traffic to your content through different channels, sell the value proposition there, and gently nudge the audience to take favorable action. And keep doing that till they convert into a lead or a client.
Both SEO and Social Media are channels that draw traffic to your website, albeit in different styles.
And that is how you can use social media to improve SEO rankings.